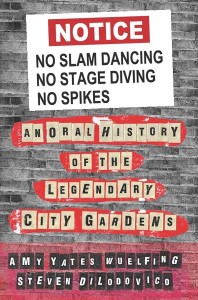 9 January 2014
Now here is a book that I had been looking forward to for a long time since I first heard about the project a few years ago. Titled after the infamous sign inside the long-shuttered Trenton, NJ club City Gardens (the last show there was in 1994), this is nothing less than a superb oral history (as the title suggests) of the club from its early '80s beginnings to its end in the late '90s (dance nights continued there for a few years after they stopped doing shows). For those who don't know, Randy "Now" Ellis started promoting shows in a dilapidated warehouse/former car dealership in a depressed part of Trenton, NJ, giving bands who could play nowhere else a chance and booking many national headliners who regularly stopped there between gigs in New York, Philadelphia and Washington, DC. Though perhaps City Gardens was known mostly for punk and hardcore, it should be said that Randy booked bands in all kinds of genres, including ska, reggae, new wave, alternative, hip-hop, industrial and others, often times mixing up bills in ways other promoters wouldn't.
Many former City Gardens regulars (including the authors themselves) are interviewed, as are members of some of the many different bands that played there over the years. Generally speaking, the book is broken up into sections spanning a few years at a time. However, special chapters are devoted to The Ramones (who played there 21 times, more than any other band except Ween, New Hope, PA locals from across the river who played the last show there and were known for getting booed off the stage by fans of headliners like Fugazi) as well as the 90 cent dance nights that were held every Thursday night.
For me, the allure of this book was two-fold. First off, I would finally be able to read about the days I missed there, as I didn't start going to shows there until 1991. Thus, though I'd heard a few of the stories from the '80s, it's nice to have many of them in one place and packed with such intricate detail.
Then, of course, there was the thrill of reading about shows I attended there in 1992 and 1993, including amazing shows by Fugazi, Shudder to Think, Jawbox, Green Day (their first show in New York or New Jersey ever and the last show they played on the Kerplunk! tour before they signed to a major label) and an incredible, impromptu 1993 Descendents reunion I witnessed. There is also an extensive segment in that chapter about the most violent show I have ever witnessed, a 1993 show by FEAR in which Neo-Nazi skinheads fought with others in the audience and incited a riot.
Thankfully, most of my memories of the place are happy and by the time I started going there, it seemed like most of the worst of the violence (with the exception of that FEAR show) was over with. However, if I have one very minor complaint, it was that reading about the endless amount of violence and stupidity that occurred there in the late '80s got kind of exhausting and discouraging after a while. It does, however, give the reader a proper context for why shows there eventually were stopped, as insurance costs, injuries from patrons stage diving and the resulting threats of litigation made it harder and harder for Randy to continue.
All in all, this book is a terrific read and I had trouble putting it down, barreling through its 400 or so pages quite quickly. If you are a former City Gardens patron or a fan of the '80s and early '90s underground music scene, this book is for you. Even if you never attended a show there, if you like books like Our Band Could Be Your Life or other recent oral histories like the one about The Replacements or another about the early '80s Detroit hardcore scene (which was compiled by Tony Rettman, a City Gardens regular who is quoted extensively here), you owe it to yourself to pre-order this or pick it up eventually. More information on how to order it is here.