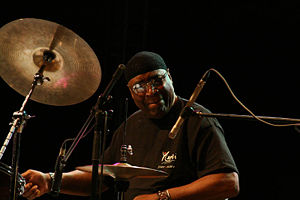 15 August 2009
Jazz drum great RASHIED ALI died on Wednesday after a heart attack. The news got out Thursday morning and occasioned great grief among avant-jazz fans, but in the mainstream was quickly overshadowed by the death Thursday of LES PAUL. I went to hear Paul several times at his long-standing Monday night gig at the Iridium and enjoyed his performances immensely, and obviously his technological contributions to music were highly influential, but for me, the death of Ali at the age of 74 is a much greater loss. I don't own a single Les Paul track, much less an album, whereas I have over thirty albums that Ali is on.
To start with, there are the many JOHN COLTRANE albums powered by Ali's polyrhythmic approach: Meditations (with both Ali and ELVIN JONES on drums), Live at the Village Vanguard Again, Live in Japan, Expression, Stellar Regions, Olatunji Concert, and most of all the awesome Trane/Ali duet album, Interstellar Space. By 1965, Trane had changed everything about his music but its rhythm; Ali's November arrival changed that too. Jones was great, of course, but he was still ideologically attached to the concept of the beat. Ali, though he had taken lessons from PHILLY JOE JONES, was a free-jazz player and had no such attachment. Coltrane now had complete freedom, and Ali had the endorsement of the most influential figure in the free-jazz scene.
Ali became much more than a Trane sideman, however: his prestige soon stimulated considerable demand for his services and eventually elevated him to leadership status. He operated a downtown loft club, Ali's Alley, for most of the '70s, and for several decades helmed the studio/record label Survival. He led the acclaimed trio BY ANY MEANS (also featuring CHARLES GAYLE and WILLIAM PARKER; Touchin' on Trane, their 1993 release on FMP, was an instant classic, garnering a rare "crown" rating in The Penguin Guide to Jazz), was a co-equal member of the bands PHALANX (with GEORGE ADAMS, JAMES "BLOOD" ULMER, and SIRONE), PRIMA MATERIA (with LOUIS BELOGENIS, ALLAN CHASE, Parker, and JOE GALLANT), and PURPLE TRAP (with KEIJI HAINO and BILL LASWELL), and had duos with FRANK LOWE, LEROY JENKINS, HENRY GRIMES, and Belogenis. His sideman credits also include recordings by MARION BROWN, ALAN SHORTER, ALICE COLTRANE, ALBERT AYLER, JACKIE MCLEAN, ARCHIE SHEPP, HENRY ROLLINS, DAVID MURRAY, SONNY FORTUNE, TISZIJI MUNOZ, GRACHAN MONCUR, NOAH HOWARD, HAL GALPER, Ulmer, and more.
I haven't heard everything Ali played on, but I've heard the majority of what's been in print over the past two decades, and they have all been great. It makes sense that his presence on an album is an indicator of quality: on his own albums, his high standards were abetted by having hundreds of hours of recordings at his loft club to choose from; on his sideman gigs, he wasn't hired by anyone who couldn't keep up with him, because it was obvious from listening to his drumming that if you weren't among the very best, his complex virtuosity would metaphorically kick your ass.
For readers unfamiliar with Ali's work, here are a few favorites:
John Coltrane: Interstellar Space (Impulse!)
Gayle/Parker/Ali (By Any Means): Touchin' on Trane (FMP)
Ali & Frank Lowe: Duo Exchange (Survival/Knit Classics)
Rashied Ali Quintet (including Carlos Ward): New Directions in Modern Music (Survival/Knit Classics)
Ali & Leroy Jenkins: Swift Are the Winds of Life (Survival/Knit Classics)
Rashied Ali Quintet (including Ulmer): s/t (Survival/Knit Classics)