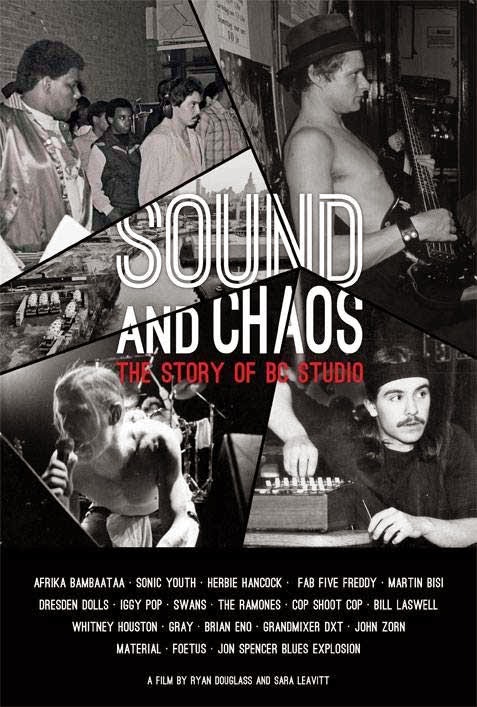 7 July 2014
Before watching the forthcoming documentary Sound and Chaos: The Story of BC Studio, I knew of Martin Bisi and was familiar with some of the records he's produced over the years (notably a few of Sonic Youth's mid '80s albums), but didn't really know much else about him. Though Bisi's name is nowhere in the title, this movie is as much about him as the studio he founded and has run in the Gowanus section of Brooklyn since 1978. Perhaps saying it is a bit redundant, but it should be noted that Bisi and the studio are almost synonymous at this point. That the studio's very name is a play on Bisi's very name should be a hint. Nevertheless, this movie is not just about Bisi, though he obviously plays a very prominent role in it.
It is also about the many musicians who have recorded there, starting with his early '80s Bill Laswell-helmed studio band Material (which Bisi joined at the tender age of 15) and ranging from '80s/early '90s underground heroes like the aforementioned Sonic Youth, Swans and Cop Shoot Cop to modern bands like Cinema Cinema. There is a lengthy segment about the recording of Herbie Hancock's "Rockit" and its victory at the Grammys, an unlikely early mainstream triumph for both hip-hop (albeit filtered through the lens of a legendary jazz pianist with an already storied career) and for Bisi and the studio. Additional musicians who have recorded with Bisi, including Amanda Palmer and Brian Viglione of The Dresden Dolls, are also interviewed.
One thing it is not really about is the recent and ongoing gentrification of Brooklyn. This is perhaps surprising given the film's brief account of the Whole Foods that has opened directly across the street from the studio. At only an hour and ten minutes, one senses that some time could have been added to address this issue with greater depth. As such, it is my only (very minor) complaint about this always compelling, extremely well-edited film.
However, the film instead chooses to focus on the music and on Bisi's life story, ranging from his Upper East Side roots to his almost four decade plus embrace of bohemian life and participation in New York's underground music scene. First and foremost, he is a constant presence in a Gowanus that is changing rapidly and for the time being, he isn't planning to go anywhere.
The film is screening at Anthology Film Archives in New York on July 17, PhilaMOCA in Philadelphia on July 21st and the Brattle Theatre in Boston on July 26th.