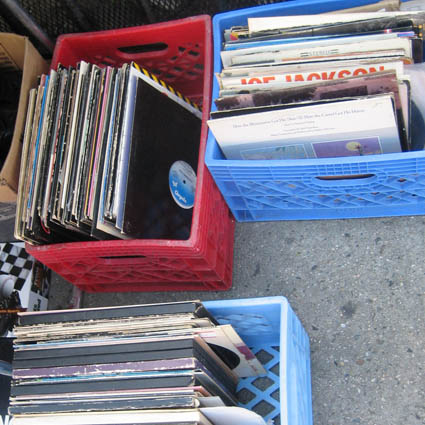 4 May 2006
For the next six months, stoop sales will be a Brooklyn staple.
Known as garage sales or tag sales in suburbia, in Brooklyn, due its many brownstone buildings, they're called stoop sales. On telephone polls throughout Brooklyn neighborhoods fliers explain when and where these sales will occur and what kind of items will be sold. Chalk markings on sidewalks also point the way.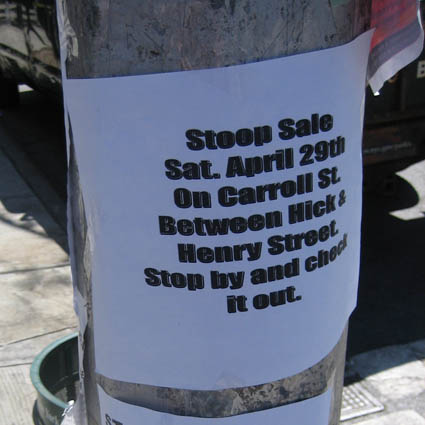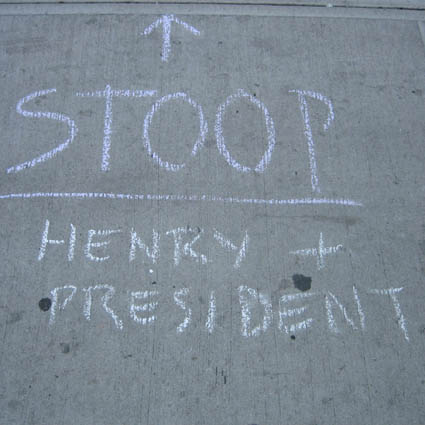 Like garage sales, stoop sales offer anything and everything though you'll often find books, clothing, electronics, music, and movies. Carroll Gardens, with its large mid- to late-30s populace, has an ample selection of sales offering BT-friendly music.
Usually you'll find CDs for $1 to $3. On rare occasion you'll find someone selling, or at least trying to sell, disks for $5. Many sell vinyl too. I estimate that about 40% of all stoop sales offer music.
The quality and selection is a crap shoot. Sometimes you'll say "crap!" Other times "shoot!" But you'll often be pleasantly surprised. Last week I found a copy of Mercury by the AMERICAN MUSIC CLUB. And recently I picked up disks by LEONARD COHEN, NRBQ, ESQUIVEL and BLACK FLAG.
I previously scooped up pristine vinyl copies of Inflammable Material by STIFF LITTLE FINGERS, S.F. Sorrow by THE PRETTY THINGS and the soundtrack from the film The Decline of Western Civilization.
This year may be particularly good for CD buyers because people are increasingly loading their music collections on to iPods and selling their CD collections.
To find good stuff, go early. (Stoop sales typically begin at 10:00 AM and last until 4:00 PM and roughly 60% occur on Saturday—the rest are on Sunday.) If you don't, there's a decent chance others will snatch up the best items for themselves or resell it on eBay.
Early birds will sometimes arrive before stoop sales officially begin, much to the dismay of the often groggy and irritated sellers setting up their wares. As soon as the sale commences, these music vultures swoop in on their prey. (Full disclosure: I was a vulture for a short time but am now more of a migratory bird who leisurely flies south—or west, north, or east—every spring.)
If you value weekend sleep and want to avoid the vulture culture, it's best to scale back your expectations about what you might find and instead savor the walking, weather, and the natural beauty of neighborhoods. But even then, you may get more than you bargained for. As the saying goes, "One man's trash is another man's treasure."
I've also found great non-music related items including mint 1984 and 1985 Topps baseball card sets and a book by MARJORIE MORRIS and DON SAUERS, And/Or—Antonyms for Our Age (Harper & Row, 1967).
There are negatives however. The hit-to-miss ratio isn't too hot. For all the great things I've found there have been far too many gaudy antiques, cheesy ornaments, and stale travel books in the mix. And occasionally you have to deal with rude sellers.
In fact, recently I had to deal with one such person—he happened to be about, oh, seven years old. As I shuffled through some baseball cards that his 10-year old or so brother was selling, the seven-year-old repeatedly badgered me.
"Come on mister, are you going to buy them? Are you going to buy them?" I artificially smiled at the tyke and, with barely repressed irritation, said, "Well, I need another minute." Then he started again, rolling his eyes and stomping his feet into the ground. "Mister! Are you gonna buy already? Pay up!"
His well-behaved brother repeatedly counseled him to be patient and to allow me to finish looking through the cards. I was so impressed by the 10-year-old for setting his pushy younger brother straight that I knew I had to buy his cards if only to reward him for his exemplary behavior.
Regardless, methinks the seven-year old piranha may one day make for an excellent bill collector. His brother? A diplomat perhaps. [Or was it a good cop/bad cop routine? I'd be watching out for these kids to one day be running a three-card-Monte ring… -ed.]