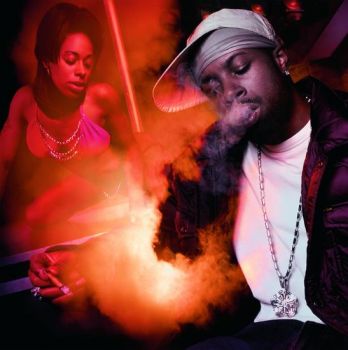 25 February 2006
When a young, rising-star frontman in any genre dies, it makes headline news. A producer? Not quite as much. But these days producers are doing much of the most innovative work in hip-hop, and JAY DEE (aka J DILLA, aka JAMES YANCEY) was one of the best, always pushing the boundaries of the music. So his death on February 10 (from complications of lupus, and the blood disease which he'd been struggling with) struck hip-hop fans right in the heart.
To some of us this was a loss as shocking, and as heart-breaking, as all of the young musicians' deaths that everyone knows about, all the more famous stars of various genres. There's an extreme sense of possibility cut short, of innovation squashed by circumstances.
Jay Dee's face first got into mainstream music magazines like Rolling Stone when his group SLUM VILLAGE (for which he both produced and rhymed, with a distinct, off-kilter rapping style) got attention for their 2000 album Fantastic Vol. 2. But before that, he had been doing production work for major hip-hop stars, including BUSTA RHYMES and DE LA SOUL.
In the late '90s he produced tracks on two distinctive albums that to this day remain underrated, in part because they represented a significant stylistic change for the group in question. He produced five tracks on THE PHARCYDE's second album Labcabincalifornia, helping mold a unique mellow-soul atmosphere to complement the group's turn towards a more introspective, serious approach to music. And as part of the production team THE UMMAH, he produced A TRIBE CALLED QUEST's Beats, Rhymes and Life album; it moved the group into a future-soul direction that threw fans for a loop, yet for my money it remains one of the best hip-hop albums ever.
Jay Dee's discography includes work with so many great artists. But most significantly, he pioneered his own unique style, one built off a distinctive drum sound and a knack at creating an evocative, lingering mood. He was aware of how to use space on a track to the fullest extent. He took unlikely samples and weaved them in seamlessly. He worked with elements of classic soul, funk, and jazz, but used them for future-looking purposes.
He musically influenced artists in hip-hop and outside of it, into the electronic music world especially. And his most recent album Donuts, released a week before his death, demonstrates that he was still pushing forward, still trying out new sound and style combinations. To say that he'll be missed is the understatement of a lifetime.