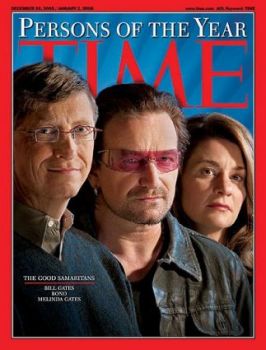 21 January 2006
Time Magazine selected U2 frontman BONO along with BILL GATES and his wife MELINDA GATES as its "Persons of the Year" in 2005. Whether or not they deserved to win is debatable, but all should be commended for their noble efforts to fight poverty and HIV.
That said, last week BBC News reported that the cheapest full-price ticket for a Feb. 20th U2 concert in Sao Paulo costs "about two-thirds of Brazil's minimum monthly wage."
As an advocate for the poor—and a super-wealthy one at that—how could Bono sign off on these exorbitantly priced tickets? If he would claim to not be aware of the prices, why wasn't he informed?
For perspective, in the U.S., the monthly minimum wage is $824 (computed at 160 hours times the federal minimum wage of $5.15).
If Bono treated American minimum wage earners similarly, the cheapest full-price tickets for U.S. concerts would cost $552.
I wouldn't normally knock a musician for setting ticket prices to what the market will bear, but when someone becomes a self-appointed savior for the the disadvantaged, his actions by all means should mesh with his message.
In an ironic postscript, if Bono wishes to keep touring, he may first have to save his band before he saves the world; his fervent evangelizing appears to be alienating his band mates, reports UPI:
U2 guitarist THE EDGE has reportedly hinted that the current Vertigo tour could be the last for the Irish rock superstars.
Britain's XFM said the band's growing disdain for Bono's on-stage preaching and political aspirations may play a part in the decision to hang up their road shoes.
Recent news reports said drummer LARRY MULLEN JR. times the frontman's speeches and sends him a message if he is taking up too much concert time with talk about eradicating global poverty.
Although U2's official site doesn't show it, according to Pollstar.com, the band has added a second date in Sao Paulo.
U2, which certainly doesn't need the money, should consider giving something back to the people of Sao Paulo. How? It could play that second concert—'pro bono.'