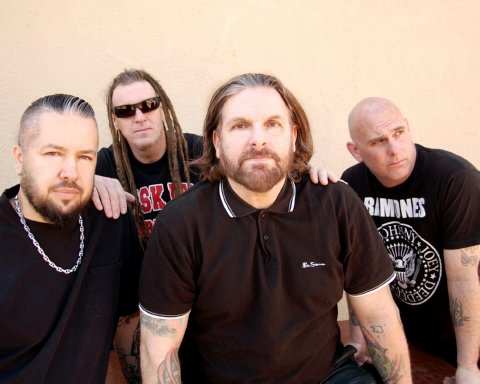 19 May 2014
Hardcore legends 7 Seconds return after a 9-year absence with Leave A Light On, their newest full length since Take It Back, Take On, Take It Over. Maintaining their urgency but coupled with new found introspection, 7 Seconds deliver an album with lyrics reminiscent of 1985's New Wind. With undeniable passion and international support, 7 Seconds continue their journey with unity, positive energy, and reflection.
"So much had changed since 2005 when we released our Take It Back, Take It On, Take It Over album. I wasn't even sure whether it mattered if we put out a new record or not. Who would buy our music? Who was buying music, period?," said lead singer Kevin Seconds.
The release of the My Aim Is You single sparked many online debates as to the band's intentions and challenged the quality of their new material. Many discussions were reminiscent of how their mid-period material was first received, material that sadly created a rift between fans. Kevin didn't hesitate to speak his mind and even posted responses via Facebook. He expanded on his position.
"I don't really see it as me defending the band so much as I'd just like for people to not misunderstand or misrepresent us. You can not like us all you want but when you start revising history, particularly one that had us smack dab in the middle of it for 30 plus years, you can expect that I'll have an opinion on the matter. Chances are, I'll open my mouth and speak on it," he stated.
7 Seconds always stood in contrast to their Hardcore peers. While their contemporaries chose to push the boundaries of speed and aggression, 7 Seconds experimented with melody while Kev's lyrics resonated with fans that ultimately helped create a sub-genre of Hardcore.
"We play music that we love and that moves us, first and foremost. That's just how it's always been. If 100 people think our mid-period stuff was a unforgivable misstep, so be it. You'll find 100 people who think it was our best period as a band and wish more than ever that we would play material off those records," said Kevin.
He added, "If we worried about that type of stuff, we'd drive ourselves crazy and probably never make records or play shows."
Leave A Light On may share similar themes with New Wind but the difference lies within the group's execution. Kevin's voice has retained all of its melody but he affirmed it was a tough going throughout the years onstage.
"Personally, I always struggled with trying to find a way to match the energy and intensity of both the older fast songs and the later, slower melodic stuff in our live shows. I didn't really know my voice at the time so trying to make it work in a live setting was very tough."
With a renewed passion for music and the human spirit , 7 Seconds are poised to build on their well-earned legacy. Kevin chose a more lighthearted approach in response to the band's longevity.
"I'm not certain we're not repeating previous material," he laughed.
He continued "It's never been about being artistic or re-inventing the wheel. I mean, I
appreciate making art and I consider myself an artist of sorts but with 7 Seconds, it's just all about the spirit and energy and passion,specifically at live shows. If all people did was sing along with us, I'd be very ok with that."
Always outspoken with regards to unity, 7 Seconds continue expanding on this message but Kev's attitude has shifted when asked how he relates to the subculture at this juncture in his life.
"I don't relate to it and I don't feel the need to try. I'm 53 and I come from a generation of bands made up of people who were genuine troublemakers, activists, trailblazers and never-give-uppers. I don't feel like I need to 'bro-down' with the youngsters or relate to what they're doing with hardcore these days. I also don't feel like I need to pretend that what they're doing with it is innovative or dangerous. It's neither."
He clarified that despite his opinion that today's subculture may be lacking he did not want the negative aspects of early Hardcore to reappear.
"I'm not suggesting that I wish the violence would return. We had more than our share of violence and really horrific shit happen around us in the 80's. I'm fine with people being civil and friendly at punk rock shows. I just don't feel that danger anymore. Not at shows. Not on records. Not in every day life. It's really easy to be a rebel these days. It requires almost zero effort."
As Hardcore soldiers on the genre has become mired in revisionist history and nostalgia. Reunions have drawn sharp criticism from fans but Kevin believes generation gaps to be the dividing line.
"I do think that plenty of older people resent the younger generation of kids calling themselves 'hardcore' because there's a lack of so much of what made hardcore
great in the first place. I'm guilty of that but it's not because I don't want younger people to pick it up and do something with it. I just want them to pick it up and do something better with it. Not just musically but politically and philosophically, as well."
Music will undeniably remain a focus for Kevin as expressed in the new song
The Empty Spots
but he shared other activities that move his spirit.
"I draw. I paint. I do stupid Internet things like podcasts and fake radio shows. I spend time with my wife Allyson and our dogs and cats. I tattoo from time to time."
Fans lucky enough to witness 7 Seconds live can attest the band still possesses the fire and desire to combat the idleness that creeps up on the spirit. With group singalongs and the frantic rhythms of Steve Youth, Troy Mowat, and Bobby Adams, 7 Seconds took Hardcore and facilitated unity to ultimately create over three decades of "Our Core". Built upon an unshaken foundation of love, passion, and evolution, 7 Seconds truly make good on their promise to stay young until they die.
"Hardcore indirectly gave my natural big mouth a megaphone. It nurtured the activism within my heart and made me appreciate the idea of unity and community," shared Kevin.
https://www.facebook.com/official7seconds
http://www.riserecords.com/
photo: David Robert