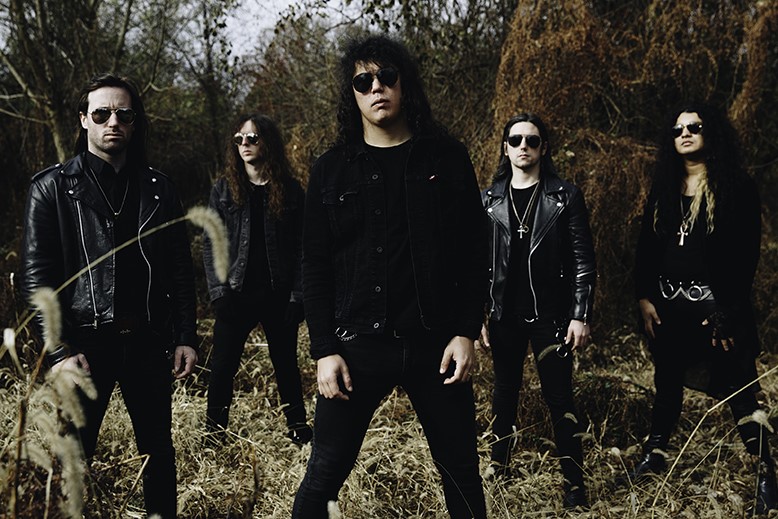 22 December 2019
Idle Hands continue crafting songs transcending genres, causing debate among the new fans they create after each show. Having earned an opening slot during King Diamond's recent U.S. tour, Idle Hands has earned the distinction of attracting staunch Metal fans, in spite of singer Gabriel Franco insisting his group is not exclusive to the genre. Hailing from Portland, the Pacific Northwest has a long association with grunge and indie music yet Idle Hands does not fit within those parameters. Franco stated he takes great pride in having critics debate where Idle Hands fit in the fickle tastes of today's fans.
"It's high praise that people struggle to define us. I don't want to be a Goth rock band or an exclusively Metal band. The longer I can hold people off from genre defining statements the better," laughed Franco.
Before taking a break from music, Franco had played bass in Spellcaster, earning a strong following playing its brand of melodic Metal but Franco quickly stated the band was actually on the decline, prompting his hiatus. The dynamics of Spellcaster taught Franco invaluable lessons he continues embracing. Assuming a leadership role with Idle Hands that he unabashedly says could have him perceived as 'difficult', it appears the new arrangement is beneficial to all involved. Franco reflected on his previous role in Spellcaster and how both groups stand in marked contrast.
"Spellcaster was in sad decline from not having a cohesive leader and the direction was muddled. Toward the end I was in a more managerial role. We got stagnant and it was hard working with people that weren't as invested so we ended in 2017. With Idle Hands, I write the music and sing. It's more in my vision, which of course I don't do all alone. We all know our roles and contribute but I don't wanna do it the old way where 5 guys just show up and try to write. You won't get a full, complete vision."
Franco attributes his discipline to earning his Eagle Scout award years ago. Taking great pride in his experience, he stated he applies similar ethos to Idle Hands.
"That was something I spent 13 years doing and I'm obviously very proud. I learned that as a team you work together for one common goal and create something ultimately bigger than yourself."
Idle Hands released its debut full length, Mana in 2018 via Eisenwald. Months removed from their debut EP, Don't Waste Your Time, the new record cohesively builds upon the last, without falling victim to any ambition of reinvention merely for the sake of. Franco's baritone vocals remain even throughout but consistent songwriting avoids redundancy.
"It was a conscious decision to make sure all the songs were a certain length, to avoid anything dragging. I never set out to reinvent something and anyone that sets out to write something solely to change a genre is just lying and ultimately fooling themselves. I worked to just write the best songs I could and I don't release anything I'm not fully satisfied with," stated Franco.
Their recent conclusion of supporting King Diamond's tour has earned new fans and critical attention and Idle Hands will already complete over 100 live dates by 2020. Securing a spot on the 2020 Decibel Magazine Tour ensures Idle Hands will capitalize on their well-earned momentum, with Franco hoping Idle Hands can offer some creative inspiration.
"I'm hoping our band can make an impact and inspire similar music. In the Northwest, grunge is obviously very big. I do love Portland and there's no place else I want to live at the moment. To me, life is about finding balance. I feel we're very honest with what we're doing. I already have songs written for the next record and songwriting always comes first. I don't think about what genre they fit into, I focus on writing them the best we can," concluded Franco.
https://www.facebook.com/idlehandspdx/
https://store.eisenton.com/music-c-43/vinyl-c-46/idle-hands-mana-lp-p-8727
https://www.youtube.com/watch?v=PY1rbEmUj-E
photo credit: Courtesy of Idle Hands