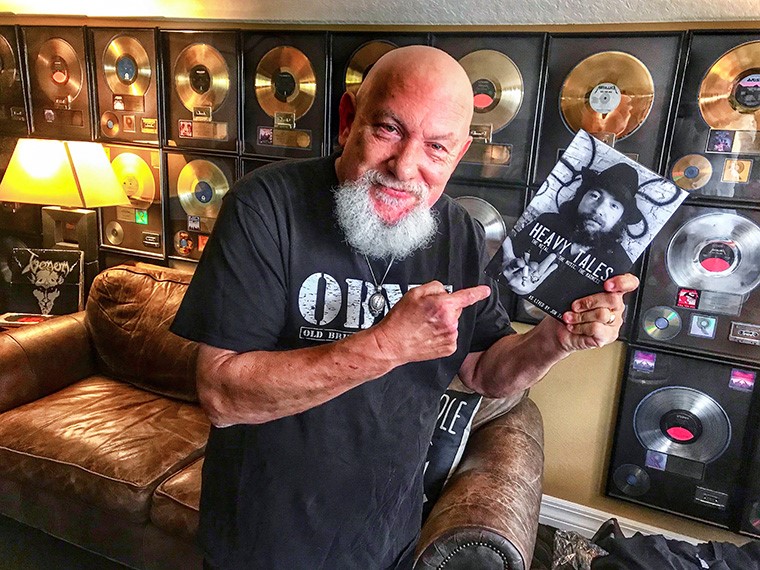 9 August 2020
Megaforce Records founder Jon Zazula (Jonny Z) simply laughs when asked why now, after all these years has he finally decided to share his stories of being instrumental in creating the U.S. thrash metal genre. HEAVY TALES: The Metal. The Music. The Madness-As Lived By Jon Zazula chronicles how Zazula and his wife Marsha founded and built one of the earliest U.S. Thrash record labels in 1982, ultimately responsible for discovering and releasing the debut records of seminal artists such as Metallica, Anthrax, Overkill, and Testament. Testament vocalist Chuck Billy provides the foreword for the audio release.
"Truth be told, I'm not getting any younger and I think it's important for people to know how a lot of these early bands started. Simple as that," laughed Zazula.
The tenacity of the Zazulas can be seen as a testament to working class values of embracing a vision and against all odds, making dreams come to fruition. Megaforce Records sprung from their New Jersey flea market booth that sold records and music memorabilia. The space eventually evolved to a brick and mortar record shop, Rock N' Roll Heaven, where aspiring musicians and passionate fans gathered to discuss bands and work to promote shows.
"Even just starting the shop was a total DIY affair, forget about beginning a label! What we were seeing at the shop was this new beginning, young people and aspiring musicians that were looking for more. A lot of the small venues were just booking cover bands and everyone was playing like AC/DC," stated Zazula.
Zazula's strength was his unique ability to spot talent early. The foresight of Marsha and himself led to facilitating friendships with artists that were on the cusp of creating something new but lacked the support and direction to tie everything together. Newly formed Metal groups struggled to book shows, let alone record and release proper records.
"The early and growing Metal scene was very word-of-mouth. The earliest shows were simply organized based on recommendations of people coming and buying at the record shop. That's how we organized the early Anvil show. We brought Venom over, believe me, there was nothing like them at the time! Next on the list we wanted to book groups like Raven, whom I thought were very talented and really should be bigger. It all began in a very grassroots way. This was their Metal, for the new fans. Not hokey rock and roll and it was the real thing. We worked to give these bands to the people that wanted more and were willing to support it," reflected Zazula.
The burgeoning scene comprised of out-of-town artists that were rabidly supported by local fans, bands today that continue playing arenas and festivals but at the time in the U.S. were only able to draw a couple of hundred fans. Zazula takes issue with anyone attempting to rewrite history and state that early Metal was quickly embraced by local radio and promoters.
"That was not the case at all! Radio was not interested in the up and coming bands and there really was no local Metal scene to speak of outside of Judas Priest, Iron Maiden, or Black Sabbath coming to town. Looking back, we wanted to bring the newly formed bands to the people, like Metallica and Anthrax. I remember playing Anthrax to one A & R representative that ended up covering his ears behind his desk; they didn't want this music. There was a time when those groups were playing to only 60-100 people. I started the book with the big show at Roseland, which culminated with a few thousand people showing up to support these great new bands. I knew that night was special," said Zazula.
The story of Zazula's relationship with Metallica begins so simply that many find it difficult to believe if it was not so well documented.
"I really thought they would be biggest group, from the first note I heard on their No Life Til Leather demo that was simply passed to me. At the time, there was no blueprint for the type of music the early groups were working to create. There were no early labels dedicated to this kind of growing music. There was some heavy music but not like that!" said Zazula.
Jon and Marsha struggled to create Megaforce Records in 1982 as a vehicle to bring these groups to the people. There was no previous model for the couple to embrace and build upon but there was a growing network of local groups that were hungry enough and shared a similar vision of creating a new genre. Zazula's book shares anecdotes of Metallica sleeping in filthy practice spaces and warehouses, and his 'manic drive' leading to sleepless nights and mental health issues. Anthrax would pass around their demo at early shows and continue to network at the record shop. Zazula worked tirelessly to promote and ultimately release Anthrax's first five records, beginning with 1984's Fistful of Metal.
"I didn't know any other way but to work every hour at an insane pace! I knew these bands were special. I do admit, Anthrax in the beginning had a rough go but they worked so hard at it and absolutely deserve to be big today. With Metallica, we worked to release those first two records, Kill 'Em All and Ride The Lightning because we knew people would love it as much as we did. I either love a band or I don't. You have to play the game to win or else. Understand, we had very little money, Metallica was driving to gigs in a busted Winnebago if you can picture that. To make a decent record cost $12,000-$18,000 back then and some well-known producers were $50,000, it was crazy. This was when labels were still at their height and taking advantage of people," stated Zazula.
Megaforce released Metallica's debut in 1983, reportedly with a modest budget of $15,000. Surprisingly selling 60,000 copies in '84 after Metallica completed a European tour, Zazula stated no other label was interested in financing Metallica's recordings, no matter how much live support the group was earning. Zazula was always a believer, even if the completion of Kill 'Em All nearly bankrupted him.
"You had to hit hard and with the right timing. You had to be willing to go all the way and we just had a manic drive, this tenacity to go all the way. I felt like the only to do it was just jump in and do it! We always loved bands that worked hard at self-marketing and were professional at how they presented themselves. If the music progressed they joined our pack. You had to have the music to back it up which was the most important thing,"said Zazula.
Metallica was earning bigger shows in Europe and while he worked to create that audience he also set his sights on now iconic bands Anthrax and Overkill. His wife Marsha worked tirelessly within the industry, during a time where women were not quickly embraced. Additionally, the Zazulas formed a lifelong friendship with 'Metal Maria' Ferrero, whom offered much-needed publicist experience to Megaforce. Zazula reflected on the roles women had within the industry and the growing fan base.
"Marsha was certainly not off to the side while we created all this. In the business world she had a rough time because the industry did not have a lot of women in there doing what needed to be done due to the so-called 'men's club.' At the shows we booked, women certainly attended and they were dedicated fans. When you had the pretty boy bands like Motley Crue, Warrant, and Poison come there were even more women in attendance."
As Megaforce expanded its roster, Zazula was quick to remind people of just how tight of a budget the label ran on. Additionally, he stated the all-hours job took a big toll on his mental health.
"Every cent we made, if we did make anything was immediately reinvested in the label. There was a lot of pressure and we were stretched thin. We did release some limited edition albums that sold well, which always helped. When we signed Overkill, I was already into them because I always loved how heavy they were. Singer Bobby Blitz was a terrific front man, and they really should be even bigger. With Anthrax, you had to respect how hard they worked. They were not druggies or big drinkers. When I heard it all come together it was great but looking back, they would come to me at the flea market's early days with demo after demo. I was happy they got things right, they turned out great," said Zazula.
Within Heavy Tales, Zazula's intention is to chronicle the very DIY, grassroots spirit of U.S. Thrash Metal. The memoir contains little mention of drugs and alcohol and glorifying clichés but rather, a very down-to-earth style that makes Zazula a likeable and easygoing individual.
"My intention was to never create some tell-all book with photo after photo with me and now very famous people. I feel there are too many books like that."
Zazula maintains his positive drive throughout the book, even on chapters detailing Metallica's eventual split from Megaforce Records and the tragic death of bassist Cliff Burton. He never exhibits any sour grapes or views lost opportunities as personally crippling.
"I don't take the view of lost opportunities, for example even with such a talented band like Mercyful Fate. They were incredible and we were very into what they were doing, they were talented and played tasteful solos without overshadowing everything. We loved what they were doing, helped them in the states and worked to release their record, Melissa. Then we would move on to the next group that we believed in," reflected Zazula.
Asked if everything was worth it, Zazula took a selfless approach, choosing once again to praise the artists.
"Seeing the bands come to life and seeing Anthrax headlining Madison Square Garden was a big deal, Raven kicking butt and Metallica's unbelievable show in 1984 at Roseland. There were a lot of standout shows that made my hair stand up on my arms. When I retired and sold the label, it was as simple as the time was right to move on. Marsha and I had enough and there was a whole new world waiting for us and we wanted to see it. I was eventually burnt out by the whole thing and money meant nothing to me. That's really the whole story and I'm grateful for all of it," laughed Zazula.
www.jonzazula.com photo courtesy of Adrenaline PR