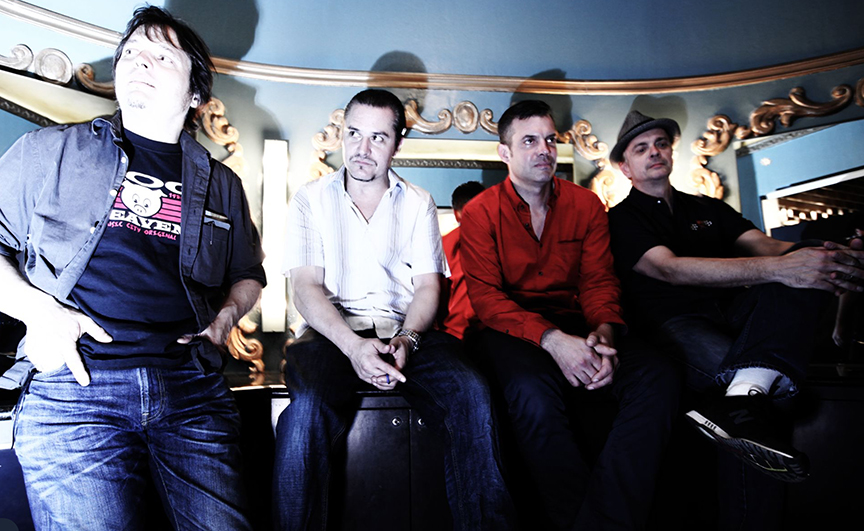 29 March 2021
Tomahawk have returned after an 8-year absence with Tonic Immobility. Retaining every bit of urgency and versatility that remains their hallmarks, guitarist Duane Denison affirms these times of uncertainty proved to be the best time for creative onslaught.
"It's been a rough year between the pandemic and everything else. A lot of people feel somewhat powerless and stuck as they're not able to make a move without second guessing themselves or worrying about the outcomes. For as much as the record possibly reflects that, it's also an escape from the realities of the world. We're not wallowing in negativity or getting political," commented Denison.
Fronted by the enigmatic Mike Patton, Tomahawk once again defies category yet Denison's unique style makes the group feel familiar to longtime supporters. His work with '90s powerhouse group, Jesus Lizard led the indie charge as they bore witness to another much-needed rock resurgence. Fronted by unhinged and manic vocalist, David Yow, Denison feels Patton and Yow are in marked contrast, yet share familiar traits.
"Yow is a great front man but not a great singer in a traditional sense and he'll be the first to tell you. Patton hits notes in a more melodic sense over chord structures which frees me up to add effects. Both are fantastic front men and it's been great working with both of them," reflected Denison.
Trained as a classical guitarist, Denison continues escaping boundaries of genre. To label him a rock guitarist would be a great disservice, and simply branding him noise rock will certainly draw his ire. His tones are not easy to replicate and no song seems to follow clear, formulaic patterns yet the moment Denison plays, he's instantly recognized.
"I don't appreciate the term 'noise rock' because it's tiresome, it's gotten boring. I did like some Punk growing up but there has to be a balance and anger is just an easy energy to tap into. That has to be balanced with something introspective or inclusive. Music and art has been driven by anger, the great motivator, if you will. You cannot let anger consume you and be driven by just one emotion," stated Denison.
He added he always felt at odds with U.S. hardcore despite its infectious energy, and stated the constant quick tempos could result in things appearing one dimensional. Denison reflected on Yow's early group, Scratch Acid and how they embraced punk's aggression yet worked to create a new and exciting sound.
"Looking back to Scratch Acid, Yow's group with bassist David Wm. Sims, whom also played in Jesus Lizard, they were very influential with a lot of things I still liked about rock. When I lived in Austin, before I moved to Chicago, the punk scene was very diverse. It was very encouraging to me and I was beginning to filter those ideas as I kind of struggled to find my place in creating music," he said.
Jesus Lizard's relentless touring and Yow's wildly unpredictable stage antics had them slowly earning respect. Denison recalled how they toured with only an ep to their name. With subsequent records produced by the talented Steve Albini, Jesus Lizard retained a very consistent sonic onslaught, bottom heavy rhythms complemented Denison and Yow's caterwauling made him one of rock's unique vocalists. Denison reflected on Jesus Lizard and their well-deserved accolades, ultimately having them inked to Capitol Records.
"We worked so hard for very little tangible results. We had a little notoriety from Scratch Acid and there were pockets in the U.S. that could appreciate it. I started to notice that when we would return to cities on tour there would slowly be more and more people coming out. We would be written up in the local weeklies. Slowly, we were able to earn opening slots for Sonic Youth and gradually, playing festivals like Lollapalooza and Reading. That was rather incredible to gain that kind of traction for a band that sounded like us. While on Capitol, we weren't pressured into anything or treated badly at all," stated Denison.
Ultimately, the '90s sound of frantic rhythms and strong guitars shifted as Denison saw the overall sound and approach of his peers change. Jesus Lizard maintained all of their ferocity while on Capitol, but were in a quandary as their fanbase was divided over their leap to a major label. Breaking up in 1999, it would be a decade until Jesus Lizard returned to the stage. Their subsequent reunions were well-received as every club date quickly sold out. Denison never remained idle and could be described as a relentless creator.
Some of his groups may have experienced a hiatus or long absence between records, but upon returning Denison always sounded creative and rejuvenated. Tomahawk's newest offering is no exception. The various genres they embrace can challenge and puzzle listeners yet each record sounds cohesive, never 'out there' enough to alienate supporters.
"On any of our albums, you'll find those faster, high energy, abrasive, and dissonant songs. You'll also find the slower, atmospheric, groove- and tension-based moments too. There's always been a touch of, dare I say, Latin music in the form of Bossa Nova or flamenco-influenced guitar. All of those things appear on this record," commented Denison.
His guitar tone has never been easy to identify, yet Denison says he can make most any amp 'sound like that' but every player knows there is always a backstory to backline.
"I have always had a weird on again, off again relationship with aluminum instruments. I once had a Kramer, before they became 'shredder' type guitars. They did sound great but were very neck heavy and not balanced. Travis Bean guitars started showing up when I moved to Chicago in the late '80s. I borrowed one and it was really nice; You could buy them back then for $500 but now the market has dictated prices and they're very expensive. When Jesus Lizard got back together in 2009, I was working with Electrical Guitar Company to improve on the balance of aluminum guitars, which I think we addressed successfully. I play that in Tomahawk," said Denison.
As Tomahawk celebrates their 20th anniversary, live music remains under scrutiny due to pandemic-related restrictions. For Denison, the restrictions have not hindered his songwriting efforts with Patton.
"Tomahawk has always been this special place where we can play hard, heavy music and mix in expressionism with a vocalist who can do anything. Tonic Immobility is a statement we're still around and still doing it. You can take life at your own pace. Sometimes, you just have to wait until the time is right. Maybe now it is," concluded Denison.
https://ipecac.com/artists/tomahawk