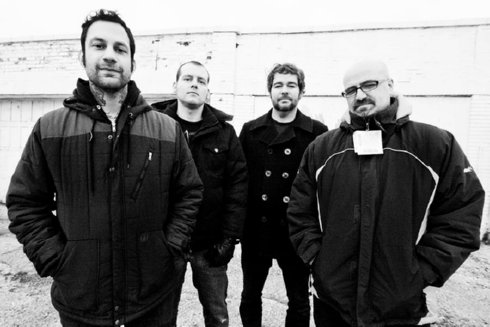 12 July 2013
Dead Ending works to invoke hardcore's spirit while confronting today's social and political challenges that serve to divide. With the release of their self-titled second record, their urgency remains undeniable. Fronted by Articles Of Faith singer Vic Bondi, the breakneck tempos are the perfect compliment to his political convictions.
"A lot of the passion has to do with the guy's I play with; Jeff Dean, Derek Grant from Alkaline Trio and Joe Principe(Rise Against). In a lot of ways it's Jeff's band because he wanted to play fast paced hardcore and he wrote the music on the first record," said Bondi.
Dean had met Bondi while touring in 2006 with The Bomb and their affinity for hardcore sparked a friendship. Once the tour concluded Dean sent Bondi some of his songs for review. Bondi shared his initial reactions to the recordings.
"The music was well written and it felt natural to put words to it. It really was that simple. As far as me being in a hardcore band now; Every time you hear that noise that says 'We are the makers and you people are the takers', there has to be some kind of soundtrack to that which says 'fuck you'. I want to be part of that soundtrack," stated Bondi.
Dead Ending made their live debut at Punk Rock Bowling in 2012. Bondi's trademark polemics delve into familiar territory of questioning authority, anti-militarism, social observation and leftwing politics. It seems only fitting that Dead Ending resides on Jello Biafra's Alternative Tentacles label.
"Getting older is a humbling thing. The certainties of youth don't sustain themselves and you recognize the limits of your own perspective. I'm at the age where I have seen the world shift a lot. I have always been a leftwing guy and that hasn't changed but I was probably more dogmatic when I was younger," reflected Bondi.
Three years ago Articles Of Faith reunited to play two shows during Riot Fest. The reunion offered Bondi a unique opportunity for further introspection. Nostalgia can be powerful and dangerous as many artists have had their legacies rewritten by historians and fans. Artists return for a variety of reasons but endure intense scrutiny from critics and fans. For Bondi, the reunion argued Articles Of Faith deserved a bigger place in hardcore's lexicon.
"I've been playing music for 35 years now and AOF put me on the map. We were offered to do Riot Fest and we all talked it out and decided it was a good idea. I knew there would be a lot of people debating our appearance. We decided to record some new material and just pickup where we left off. You really have to give those guys credit, spending 3-4 months just working to get their chops back. We were not going to go out there and suck," laughed Bondi.
According to Bondi, the Riot Fest reunion renewed friendships and was ultimately a very emotional experience. Articles Of Faith rehearsed for two weeks to play two shows.
"You just reach this place where you're putting music out there and it belongs to the people who then share it back with you. I think that second show was perhaps the best show ever. It's physically demanding to play music like that in your 50's but we walked out with our heads held high. We came back years later and proved we were a badass band and for me it was a great way to end it," affirmed Bondi.
Building on the foundation laid by Articles Of Faith, Dead Ending works to continue manifesting refusal to conventional designs of constraint. Asked what originally attracted him to hardcore Bondi stated growing up in a military home had a profound impact on his life.
"It was a difficult thing for me and I noticed a lot of people who grew up in military homes gravitate toward hardcore. Just looking for somewhere to belong. Dead Ending is certainly a hardcore band with politics because politics has always been my thing. It's who I am."
Bondi took his convictions to a new level in '92 and earned his PhD in history. He returned to academia to teach high school and college but he speaks most passionately about his position with Microsoft.
"They made me a great offer back in '95 to work on Encarta, which was a product I helped create. It bought me into the computer world which I was grateful for. I now have 17 years in the business and I find it very interesting. Looking back I got to be a part of and witness many important changes, like the ongoing development of the Internet and I'm thrilled to be a part of it all," exclaimed Bondi.
After finding his niche in the technology industry, Bondi believes he's found that something that could inspire and promote change. He reflected on what he looked for and found within hardcore.
"When I played hardcore I was really looking for a movement to invoke broad change in the world. It wasn't that but it did change my life and that's good enough for me."
https://www.facebook.com/DeadEnding
http://www.alternativetentacles.com/bandinfo.php?band=deadending