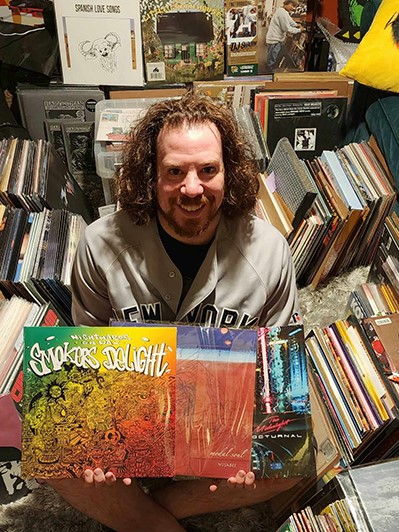 14 August 2023
Matt and Diana Friedman have proudly recognized the Hudson Valley's transformation into a haven for local artists and independent business owners seeking to make positive contributions to the vibrant community. Seeking to further catalyze the community with Den of Wax, a DIY record shop and label, the Friedmans not only wanted to bring their passion for vinyl to Ossining but answer their question of what they could do to sustain the Hudson Valley's music and arts community.
"I grew up going to a lot of shows at venues like 7 Willow Street and supporting shops like Trash in Danbury. I would always get an endorphin-like kick from record hunting and just sharing that excitement of discovering new music with people. My wife Diana and I returned to the area after living in Brooklyn for years and we've been excited to see all the positive growth in the Hudson Valley," shared Matt Friedman.
Den of Wax seeks to fill the long absence of a local brick & mortar shop by celebrating the craftsmanship of quality vinyl pressings by artists that would be oft overlooked by today's music fans. The couple began selling vinyl at local pop-up events but they quickly outgrew their storage spaces and decided that a brick & mortar shop was the answer. Despite the challenges of bloated real estate costs and vinyl remaining such a niche market, the Friedmans remain steadfast in their goals and Den of Wax is slated for an October grand opening.
"We loved how welcoming the community has been and how passionate local business owners were, no matter what industry they were serving. We want all our vinyl releases to have elevated art designs to the point of having the accompanying art enhance the music. People have told us there is a need for an independent record shop and how they miss holding something unique in their hands, in comparison to digital-only releases," shared Diana.
She added, "We plan on releasing 5-6 titles annually and work with each artist to ensure we bring their music and art vision to life."
Matt stated despite originally growing up in the Hudson Valley but living in Brooklyn for several years he remains surprised and proud of the region's welcoming communities and artistic growth. Several independent spaces dedicated to facilitating the career path of versatile artists, galleries, and businesses continue catalyzing the region and both he and Diana wanted to 'give back' and further elevate their neighborhood. The couple worked with local community members to organize a music festival to benefit The Loft, a long-standing space in White Plains for local LGBTQ+ residents, while also informing attendees that Den of Wax's grand opening is on the horizon. The benefit show is scheduled for August 19th and will take place at Bethany Arts Community in Ossining. The event features Man on Man, fronted by Faith No More keyboardist Roddy Bottum.
"The Loft always focused on giving LGBTQ residents the support services they needed to ultimately be comfortable with themselves while working to raise awareness of the struggles that come with that. We were originally going to do a parking lot type show but permits and regulations would be very difficult. The benefit idea came from wanting to give something back to a community that has been welcoming to us so we wanted to contribute as well," stated Matt.
Den of Wax booking Man on Man lends further credibility to the event's intentions of creating a welcoming experience for everyone, while raising awareness of a local resource designed to support LGBTQ+ communities. Bottum shared his thoughts on his newest music project and expressed thanks for being part of the upcoming event.
"This group is very unique for me because I am creating and touring with my partner, Joey Holman. There is a certain power behind the vulnerability of creating with your partner that can change the dynamic of the relationship. We challenge each other, support each other and I realize that every decision we make can have an impact on our relationship. It's been a great experience," he stated.
Man on Man can challenge listeners by peeling back the curtain of intimacy while providing a more personalized reflection of Queer lifestyles. Bottum affirmed there have been several positive steps forward with empathy and organized resistance toward actions seeking to demoralize Queer communities yet he believes the ability to simply come together and artistically celebrate diversity is far bigger than people may think, and the impact should not be taken for granted.
"Positive change for me can simply be physically coming together and celebrating diversity with powerful music or art-supporting discussion. Man on Man did a tour with Le Tigre and it was an amazing experience to be surrounded by strong women that were smart and progressive. The support their fans showed us made an impact on me," reflected Bottum.
Bottum's extensive music career had him witness the mainstream media explosion not only of Faith No More but several of his peers. Faith No More earned several high-profile tours, heavy radio play, and international media coverage thanks to their versatility and a sound that critics struggled to pigeonhole. Fronted by the enigmatic Mike Patton, Faith No More seemed poised for even bigger heights but the group disbanded in 1998. Several members pursued side-projects and carved their paths but Faith No More's loyal fans were fortunate enough to welcome reunion dates beginning in 2009 and a surprising reformation that led to Sol Invictus in 2015. The record marked their newest studio output since 1997's Album of The Year.
"When a kid stops me to talk about Faith No More it strikes me to hear how we impacted people and that makes me feel great. I felt the Sol Invictus record was important because we crossed new barriers of personal relationships to get to a good place to create again and that was a big personal achievement. We wanted to embark on a recent tour but due to COVID restrictions that didn't happen despite us being intent on leaving with some kind of bang. We weren't able to do that so I do feel a little unfulfilled in that way. I am appreciative for all we did and what we experienced but I feel it did not end the way we wanted it to," reflected Bottum.
For Bottum, Man on Man remains a positive, yet challenging creative outlet. With Queer lifestyle convictions unabashedly taking center stage, he stated he feels re-energized creatively and spiritually.
"There are high stakes for sure from what Joey and I originally talked about when we began this project. Growing up I noticed there was an absence of Queer visibility, or not enough of it within certain outlets. With this project, we felt we would overcompensate and push hard the provocation and sing about sex. We were not going for any campy presentation, we wanted to present a queer love story in a way we felt we had not seen before and reactions have been open-armed," said Bottum.
He added, "It can be hard for couples to sustain touring and creating together but I am enjoying this unique experience and all of the challenges that come with it."
The Friedmans share a similar challenge as Bottum and Joey; preserving couple sustainability when art and business intersect.
"We looked everywhere for a spot to begin this business. We came across some good options but several just did not have the location we wanted or they needed more renovations than we were able to handle. We are renting the space in Ossining for now and that suits our needs. We have experienced some surprising challenges, from big leaks to floor replacements and it has not been easy but we're committed," said Diana.
Both Diana and Matt emphasized they intend to create a sustainable business that celebrates creativity while growing the community in positive ways, from shop local business initiatives to healthy social discourse and giving back to neighborhoods that welcomed them.
"We want this festival to be a welcoming experience for the artists and attendees. It's not exclusively a pride-type event, though we are proud to have artists that further that support. As for LGBTQ+ and other diverse communities, we have seen positive progress but we cannot ignore how quickly progress can be rolled back when people sadly work to challenge it," said Diana.
Den of Wax is scheduled for an October grand opening, and the Friedmans look forward to giving the Hudson Valley a much-needed brick & mortar shop dedicated to music.
"Our space looks to have people stay awhile, hang out, and learn about music they may have normally overlooked. We wanna make it a destination spot for vinyl and music enthusiasts and give back to the communities that have been so welcoming to us," concluded Matt.
https://www.loftgaycenter.org/
https://www.denofwax.com/
https://www.manonmanmusic.com/about