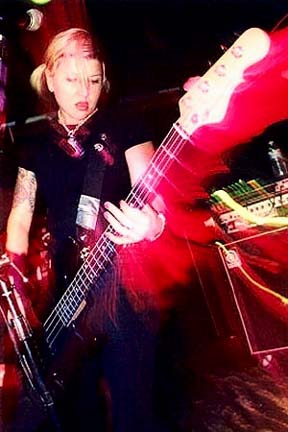 19 June 2011
The resolve to start fresh after a shaken foundation can undeniably attest to one's strength of character. After working tirelessly to build her reputation in the demanding worlds of fashion and music, former F Minus bassist and singer Jen Johnson is celebrating her full ownership of the Dainty June clothing line. She originally launched the company in 2009 with former F Minus guitarist and singer Erica Daking.
"People say don't go into business with friends, but I knew it would be ok and it was. Erica recently said her heart was no longer in the industry and she wanted to pursue cooking. I felt bad because we started Dainty June together and I wanted her to do it longer, but there were no hard feelings. It's officially my baby now," laughed Johnson.
Discovering her fashion talents early, she worked to hone her craft despite her family's struggles.
"Growing up, we didn't have a lot of money. I got this idea in my head that I wanted to be different and not poor so I made my own clothes because we couldn't afford them, but I thought I was doing it just so I could put leopard patches on everything I owned. By high school, I was sewing and customizing my friends' clothes, too."
Asked how she describes Dainty June's vision, Johnson said her collections are classic, but timeless.
"We the know the girls buying our clothes are not these so-called fashionistas. We're hand sewn in the U.S. and we strive to have our buyers look at what we create as kind of their staple; to look in their closets down the line and still think what we made is cute," she said.
"We work to be as 'green' as we can. We are 100% animal cruelty free," she added.
Johnson's newest success did not come easy. Her extensive experience was put to the test during her tenure at E.C. Star, the company she helped start by providing her unique vision to originally launch the line. Johnson provided the designs, while the business partners supplied the capital. The arrangement ultimately collapsed from under her and she left in 2009.
"I was pretty much over the owners due to money and sales; the overall running of the company. They were a little sneaky and I later learned the company was up for sale! I found out about it because they tried to sell it to someone I knew. I waited it out for almost 5 months to see if they would tell me. I even tried to buy it, but they were asking way too much so I ended walking away."
Johnson's ability to create from the ground-up can also be applied to her diverse music career. Her best known band remains F Minus, a co-ed hardcore/punk outfit that earned the distinction of being HellCat's first official release. The group's first full-length appeared in 1999.
"Everything flowed organically. Tim Armstrong really liked us, so it was only natural that he put our record out," she reflected.
Despite punk's mainstream acceptance, F Minus struggled to build a niche for their own brand of 90 second aggression. Dueling vocals and drum blasts were in marked contrast from their California peers.
"Crowds just didn't get us. We stuck out like a sore thumb. A lot of people were into Ska and pop punk. When we toured the UK and Germany, they got us. Politically, I feel we accomplished some things. People talked to us about world events and saw someone that cared, and they felt it was ok to care, too."
Before the band's last record, Wake Up Screaming Johnson left.
"I left back in 2002, and then they broke up in 2003. I think there was turmoil within the band and matters of artistic differences. I really wanted to stay in the band I started and do that record but I just couldn't deal with it," Johnson reflected.
The final record was recorded by Steve Albini, but the album was a departure from their overall body of work.
"I was replaced on bass by Erica's husband, Joe Steinbrick. I think he wrote most of that album."
Singer and guitarist Brad Logan went on to join Leftover Crack and start Black Noise Records. Johnson forged ahead and formed End On End with F Minus drummer Adam Zuckert.
"That was an exciting project! We had Chuck Ragan and Jason Black from Hot Water Music. We recorded 10 songs and mashed all the influences of Hot Water Music and F Minus together; it was real aggressive stuff, but it was short lived," sighed Johnson.
The group ceased in 2004 without an official release, but Johnson triumphed over idleness and Ammunition Affair was soon born.
"That was tough because we set out to specifically not start a mediocre pop band or punk band, but we ended up sounding poppy!" she laughed.
Ammunition Affair struggled to maintain singers and were unable to sustain themselves. The group dissolved in 2009.
"Our singer second singer Dallas got a job offer in London and moved. Thinking back, we toured Europe with F Minus' booking agent and it was funny because we were playing with all these bands that were in marked contrast to us; you do kind of pigeonhole yourself for what you're known for. It's kind of hard to make a band yours if you're not the singer and we didn't want to pursue yet another singer so that was kind of it for me."
Johnson revealed she doesn't see starting a new band in her future, despite demonstrating a passion for music at an early age.
"My mother gave me a bass when I was 12 and I haven't put it down since, but to just do it all over again….There comes a time when you have to try different things. I do play piano and guitar, but I actually think starting a clothing line is easier than a new band! The challenges are studying the markets and making sure you can handle your growth. With music, it's about booking shows and getting people to come out, it's very involved."
Her fashion ambitions and success within that demanding world has not permanently dimmed her desire to play. Despite not having a full-time, touring band she was proud to share her new project with Go-Go's guitarist Jane Wiedlin.
"That is something very special to me. I've known her for a while, she actually requested some of my designs during my time with E.C. Star and we talked about doing music. I was in The Go-Go's fan club in the 80's and she's kind of like a childhood hero to me. She's an inspiration and I love her," said Johnson.
Lady Robotika compliments Wiedlin's original comic bearing the same title. Johnson describes the group as "very poppy, very sci-fi, very alien themed."
"Jane recorded us herself. We actually played in a comic book store once. It's been a lot of fun and easy for me, since I wrote a lot of the music. I play bass and sing backups. The recording process was so easy because Jane did it, so it was like the band recording the band."
Today, Johnson remains very focused on the challenge of running Dainty June without her original business partner. Her experience has allowed her to seek new ways to create a broader clientele for her line, and much like her political views espoused in F Minus, she still hopes to communicate and raise awareness.
"I'd like to bring awareness to the masses of an independent, self-taught business and the ability to be U.S. made. Consumers need to have some responsibility for our economic growth," she said.