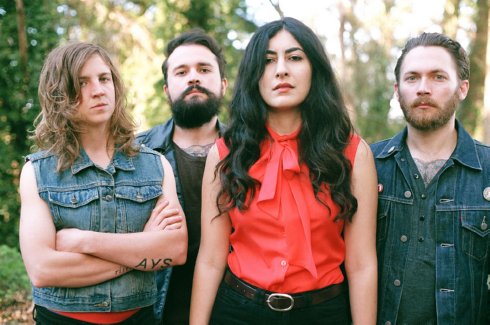 20 April 2015
King Woman opens Doubt with a cacophonous thunder that ultimately evolves to psychedelic dissonance. Capitalizing on her Black Sabbath influence, singer Kristina Esfandiari believes her ambitions are fully realized and proudly stated she has finally found her voice. After a brief stint in Whirr and solo releases under the moniker Miserable, Esfandiari boldly stated King Woman is the cathartic experience she has struggled to find.
"My time in Whirr was brief because I had no say in the songwriting but I did learn a lot. King Woman has just grown to become my life and I feel I really found myself on this record. Everyone has their say in the writing process but I felt I needed to grow more to become a leader, to take it in the direction I wanted," she stated.
Doubt was released under compelling circumstances. Critics remarked the record was solely a reaction to Esfandiari's strict religious upbringing. According to Esfandiari, local publications portrayed her as a victim of circumstance. After some hesitation, she clarified that King Woman stands on its own, regardless of how the media wishes to frame her persona.
"I can't speak too much about my childhood due to some of the people involved. I don't want that to be the centerpiece of my experiences with the band but I can say my upbringing was very intense. Religion made me feel like shit; guilty and ashamed. I'm just starting to work through some of my feelings about it all. I do believe music has helped me through it," she revealed.
Esfandiari may work to distance herself from the persona media outlets wish to create but she embraces fans that confess they have survived similar circumstances. Despite King Woman's brand of aggression and heavy compositions, the group works tirelessly to build connections with supporters that move listeners in other ways.
"I understand that our music is heavy and something a lot of people won't get or even dance to but we work to create a special energy. I'm not into stages. I don't think anyone should feel they're elevated and above any one else. A lot of the Bay Area venues we play have been closing but we network to play venues where we feel we can connect better with people," she said.
Perhaps the biggest connection for Esfandiari was her discovery of feminism. The movement has become an undeniable firestorm for controversy but she stated her discovery was almost unintended and doesn't view it as something that makes her elite.
"I absolutely consider myself a feminist but I didn't start out referring to myself as one. I did not understand feminism until I truly needed it and that's why I never take it for granted. I don't feel elite or better than others. I have nothing but respect for the women that worked to make things better and I hope I can contribute to do the same."
She added, "I do believe that it's important to be humble and not overly prideful. Showing disdain toward people that don't know enough about feminism is just being negative. There was a time when we all did not have the knowledge we have today."
Perhaps the moniker King Woman can provoke reaction and Esfandiari was quick to state despite the name invoking girl power under no circumstances is she promoting an exclusive following.
"I don't want King Woman to have some exclusive following. We want us to be inclusive and just communicate with as many people as possible. I don't view this band as something redemptive only for me. I feel it's something special for everyone involved."
https://www.facebook.com/KNGWMN
http://kristinaesfandiari.tumblr.com/