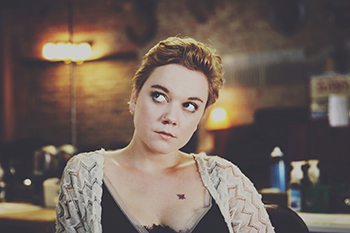 16 October 2017
Lydia Loveless continues her evolution into one of the most compelling young songwriters to emerge from the independent Country circuit. Oft labeled as a wild child gifted with raw, natural talent she unabashedly shares her inhibitions with anger, vulnerability and her hallmark commanding vocal prowess to ultimately transcend a genre rife with male dominated themes.
"Life has male dominated themes. I don't believe that is only in music but I feel people can be childish with what they listen to and their negativity. Some complain they don't like my accent or that I'm walking away from my roots. There can be a divide over my music and people like to dictate and I don't think that will go away for me but to not progress is career suicide," stated Loveless.
Responding to growing demands for her singles Bloodshot Records includes them with its deluxe re-release of Boy Crazy. Loveless stated fans voiced their desire to have a vinyl version and she believes the re-release offers a rare chance at introspection.
"When I originally wrote those songs I felt I was mired in emotion but now it doesn't hurt as much to play those songs. I can confront them and I'm glad people still want those songs," said Loveless.
Hailing from Ohio Loveless gleamed insight to touring musicians thanks to her father's music bar. One could conclude Loveless got her inspiration to pen her early work from countless nights of watching cover bands perform but she quickly cleared the misconception.
"I started playing out when I was 13 but I think reading really impacted me because I read so much that I became obsessed. I kept reading about writers and their routines, musicians and their stories, books on how to be famous, whatever I thought was cool at that time. I was very interested in Stephen King. He overcame a lot, including addiction," said Loveless.
Loveless debuted with The Only Man seven years ago but it was 2014's Somewhere Else that earned critical acclaim from independent critics to Rolling Stone. Featuring themes of addiction, loneliness, and heartbreak, Loveless successfully conveyed complex emotions while sadly struggling with depression and alcoholism. Chronologically a young woman but spiritually well-traveled yet physically worn, Loveless soldiered on with tours and interviews that featured her now infamous behavior, highlighted in Gorman Bechard's 2016 documentary "Who Is Lydia Loveless?" The film aimed to answer a lot of questions surrounding the artist that quickly earned prominence but challenges can arise when attempting to present an overview with what Loveless feels is more of a snapshot.
"The movie is well done but it's hard to say what defines you when looking at a single time period. I think it was authentic of who I was at that time; Angry and depressed. My marriage was ending and I was dealing with a lot at 23. I wore my body out from too much drinking and other things. I do still drink but I find talk therapy to be very beneficial. I feel my biggest struggle is with anxiety and verbal expression. I don't feel there are many consequences to what I write as opposed to what I say. I'm sure people still want me to be a hot mess," she wryly laughed.
For Loveless, the irony of musically conveying emotions while personally struggling to navigate through them took a leap forward in 2015 as she explored another creative medium; the big screen. Feeling drawn to I Smile Back starring Sarah Silverman, Loveless drew a parallel between the character suffering from depression and the impending strain on her family. According to Loveless, the screen adaptation was faithful to Amy Koppelman's book.
"I really hate the word 'battle'. I have been dealing with anxiety since I was nine. I think the movie was great and I did watch it entirely without music and felt I had a nugget of an idea for a song to contribute. I don't believe the movie was like this big redemptive thing like 'Oh if you suffer from depression you can get well, too' or something but more like a nightmare that you want to be better from but not everyone will win against. To me, that is honest and authentic for a lot of people," affirmed Loveless.
Authenticity remains a theme within Loveless' body of work and she was quick to acknowledge just how often she uses the term when discussing her records.
'I talk about authenticity a lot and I don't want to feel the more I mention it the less impacting it gets. There are many versions of someone's persona when they're part of the music or art world in general. I know onstage I feel I can settle into a character by using dry humor but I feel a lot of my songs rely on vocal melodies and that is what I don't hide from," stated Loveless.
https://www.bloodshotrecords.com/artist/lydia-loveless
http://www.whoislydialoveless.com/
Photo: Cowtown Chad