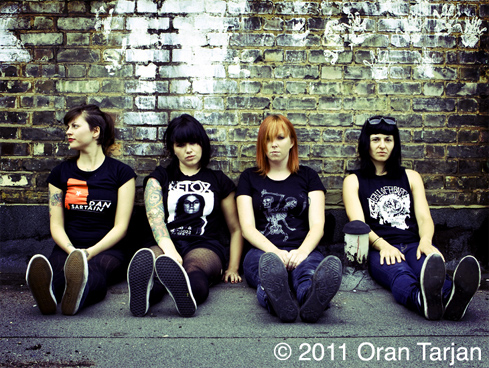 19 November 2011
Abrasive and haunting sonic assaults mark Pettybone's From Desperate Times Comes Radical Minds, a bruising debut record that successfully builds upon feminist and political themes while effectively utilizing hardcore, punk, and alternative melodies to compliment their call to arms. Vitriolic vocals are coupled with manic tempos, but Pettybone's strength lies within its ability to maintain its power when easing off the throttle. With a manifesto reminiscent of anarcho punk groups, Pettybone works to become "The voice of the voiceless, the voice of the oppressed and the sound of the revolt for all those that they were told they're useless and for all those who lost their youth in the process."
"Any subculture or just music in general the male ratio is much higher, so of course females as a whole are under-represented in all types of music, not just the punk subculture," reflected bassist Lianna Davies.
Tracks like The Blues Song turn the genre against itself as the all-female Pettybone update a sound best known for lyrics focusing on the ill-behavior of female antagonists.
Blistering hardcore tracks help the genre's belief in equality come to fruition.
As Davies and guitarist Ivona Behalova continue embracing feminist ideology, Pettybone does not impose dogmatic views or musically limit itself to the demands of a specific genre. This has allowed the group to be more inclusive and build a broader fan base. Ivona draws from diverse influences and you can hear the development of her signature sound. Hardcore's aggression gets tamed by moody and melodic interludes that pay homage to the Alternative genre of yesteryear. Her playing is intense, yet nuanced and flows organically. Ivona commented on the group's political themes.
"We all have political views that differ from each other within the band. We only talk about our life experiences in the lyrics and if that's considered political, then so be it. We try to play as many benefit shows as we can to generate money for the causes we support," she said.
Davies added that Pettybone's daily acts could prove inspiring to new fans.
"Reaching out to people for me is just voicing your opinion and doing what you do in the hope that people can take inspiration from it. I hope by us just playing shows is making females more comfortable with coming to shows," said Davies.
Even the name Pettybone provokes question as the group's moniker draws from Black Flag graphic artist, Raymond Pettibon (Ginn). It has been alleged that Black Flag once personified macho behavior in its live show and Pettibon's intense designs depicted women in submissive roles, possibly making a negative impact on the group's image.
"I chose the name to celebrate a relationship and artistic connection between me and my brother who's a painter. The Ginns were brothers; guitarist and illustrator," clarified Ivona.
Davies said she's been more inspired by Pettibon's art as opposed to Black Flag's music.
"Hardcore as a whole is macho. However, you can't always blame a band on how their audience reacts, but you can try and discourage it."
American subculture experienced a major shift in the 90's with regards to a woman's role as a performer and supporter in rock n' roll. Historically, the Punk community undeniably had its share of strong and defiant female artists, but mainstream media once again propelled these roles into the spotlight during the movement ultimately dubbed Riot Grrrl. Music publications focused specifically on a woman's role within a band and audience reactions. Underground artists suddenly found themselves with a broader platform to share their convictions . Kathleen Hanna and Tobi Vail have been credited for giving the movement its voice and Pettybone continues embracing their ideology.
Davies clarified that she believed Ivona and herself were the only Pettybone members heavily influenced by Riot Grrl.
"The movement isn't as much in the forefront as back in the 90's. However, it does not mean there are things happening from an off spur of it. I first got into feminism through music. A lot of people have forgotten about the movement and I think they need reminding as I feel a lot of women have been pushed to the background again," said Davies.
Behalova said she felt younger women are isolated from the academic background of feminism, but artists that have embraced the ideology have proven very beneficial to individuals interested in feminist theory.
"I think a lot of young girls feel disconnected from the academic feminism that are usually accessible to a small portion of women. But what does it mean to be a feminist in real life? The books won't tell you. Luckily, we have Bikini Kill, Margaret Cho, Lydia Lunch and Virginie Despentes that use language we can understand and experiences that we can relate to."
Political bands are often more scrutinized because of unrealistic fan expectations demanding an artist to remain true in every aspect of life. Pettybone is no exception and was recently criticized by some Maximum Rock N' Roll readers for playing in Israel.
"We played 3 or 4 shows in Israel. One was the benefit for Anarchist Against Wall. We support their resistance movement and we are proud to play at the Rogatka. I don't see anything wrong with that. We were not invited by the Israeli state but by our punk rock mates that have similar beliefs," said Ivona.
Davies remained unshaken by the criticism.
"I think we had nothing but a positive experience out there. However, it's never going to take away from the fact that it's a pretty fucked up country as a whole. We were invited by the punk rock scene, not the government. I don't give a fuck what anyone thinks."
Behalova added, "There seems to be a tendency to focus on other people's behavior and motives and not one's own. Focusing on your own faults can bring greater harmony to yourself that can be beneficial to all."
Ironically, the sweeping tides of disharmony and a global recession has ultimately benefited Pettybone. Utilizing uncertainty, frustration, and the overall rage of protest movements, Pettybone has created a ferocious musical backdrop complimenting the resistance.
"I think the whole world is slowly getting united against capitalism. Some states in Europe are more fucked than others. Poor people are becoming poorer and I hope the hard times will inspire people to create alternatives," said
Behalova.
With members scattered throughout Europe, Pettybone is able to broaden their scope by incorporating the different views each member shares when reflecting on their respective communities. Davies shared her insight on the current challenges the UK is facing.
"There is a major decline in UK health care, partly because of the cuts which are being made. I'm sure health care will be privatized and made only available to the rich, so I would not say Europe has a better health care system than the U.S.. The whole world is fucked as a whole and not just one part of it."
Despite Europe making historical gains with regards to women holding political office, Davies viewed the trend with skepticism and did not feel honestly represented by officials.
"Within Europe, there may be women who are holding high political office, however it does not make them any less of an asshole and just because they are female does not mean I support them," she said.
Asked if the distance between members has hindered Pettybone, Davies stated the band has turned the challenge into an advantage.
"We can mix different cultures and influences together. It's good to play with people who have had different experiences in life. At the end of the day we are still fighting for the same cause."
http://pettybone.blogspot.com/
http://www.myspace.com/thesoundoftherevolt
http://www.damagedonerecords.com/