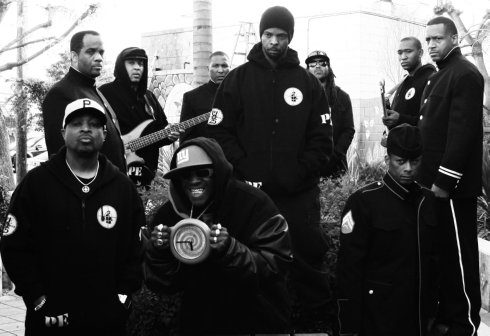 6 October 2012
Legendary Hip Hop activists Public Enemy celebrate their 25th anniversary with The Evil Empire Of Everything, their newest release that singer Chuck D hopes "will talk to" and compliment Most Of My Heroes Still Don't Appear On No Stamp. With longevity and resolve unseen before in the world of Hip Hop, the genre's greatest ambassadors mark their milestone with two new records that undeniably reaffirm their political conviction and dedication to positive change.
Both feature Chuck D's signature delivery and social awareness that continues to be Public Enemy's hallmark. Coupled with the production evolution of DJ Lord and The Bomb Squad, Public Enemy nearly makes their Hip Hop moniker non-applicable. Conceived and released outside the parameters of traditional studios, Chuck expanded on Public Enemy's new recording process.
"These albums were spawned from the virtual studios of 14 production lab experts in sync from 8 different states in the USA. The sum of these parts reflects the sonic adventure with special guided cohesion of Public Enemy's legacy, outlook and direction. This is a chance to make a powerful artistic statement that reflects on the release method as much as the music within," said Chuck in a press release.
Both albums will be available through Itunes; a decision Chuck D said was made to further recognize technology's positive impact on Public Enemy and its importance as a tool for creating opportunity. In a world described by Chuck where "knowledge is everything", the Internet- only release of both records reaffirms Public Enemy's staunch support for new channels of communication.
In response to the industry's initial fight against online file sharing, Chuck launched SlamJamz in 1996 as a means for Public Enemy and other artists to take back the creation and production of their art. The digital-only record label flourished despite the recording industry's opposition. Chuck D's resolve easily raised the debate of what separates success from impact. He reflected on Public Enemy's digital evolution.
"Our creative growth has widened and soared, same with our online participation. You're always writing but in the past recording was challenging. The DIY approach we took with these new records had us more in control of production and the decision making process. In recordings, we work on daring to say something and write something different that cannot be duplicated by another artist. With knowledge came control and these records really allowed for creative flexibility," said Chuck.
'Flexibility' is not something critics have shown toward Public Enemy. The politically charged Hard Rhymer always confronted racist attacks and calls for censorship with dignity and poise. Struggling to demonstrate that artists had more to offer than glorified gang violence and blind celebrations of capitalism, Public Enemy provoked thought and called for action. Ironically, they faced resistance from their own peers and historically received little or no airplay from supposed Hip Hop-friendly media outlets.
"We took Hip Hop above and beyond the moment we got passports. I can't stand major media companies and radio stations that show the black community has less power than it truly does. They have worked hard to show that the black community has no accountability for its art and radio. Personally, I like to be accountable for everything I say and I backup every single thing I say. We don't expect corporate entities to follow us. Public Enemy were always the outcasts of Hip Hop. It's been a long and crazy relationship through the years," stated Chuck.
The title Most of My Heroes Still Don't Appear On No Stamp is an indictment of history's delayed recognition of unconventional individuals that made impacts within U.S. culture. Chuck D celebrates Hip Hop's diversity while sharing his culture's overlooked heroes in a world all too willing to cast them aside. He stated that there has been progress but overall, there's a long way to go toward achieving equality and justice.
"There are a lot of things in the media that still have a backdrop of racism. You got media and you got micro-media that makes the dominant media accountable to force the subject. They're people covering events from their blogs and statements of anger from the people. It then becomes only a matter of time before major media can stop turning its head away and remain silent. We have made a lot of strides but we (Public Enemy) still point out what needs to be done. We should not lose sight of the fight," affirmed Chuck.
Some long-time fans have accused Public Enemy "hype man" Flavor Flav of abandoning the fight and tarnishing the group's legacy with shows like Flavor of Love. Chuck stated this wasn't the case and offered his opinion on their contrasting personalities.
"Public Enemy is not an army of robots. We're diverse and there will always be quirks in the spokes of the wheel. Flavor has represented what some communities feel and I think he's done a good job. There's no affect on the quality of the music and message of Public Enemy," he said.
Public Enemy has always faced intense criticism of their music and message, leading some media outlets to label them anti-white black militants. The group countered by sowing the seeds of positive revolution on new turf as evident with the recent success of "Harder Than You Think".
Appearing on Most Of My Heroes Still Don't Appear On No Stamp, the song earned over 500,000 views on YouTube. Support went from the world wide web to worldwide. Featured in UK promos for the 2012 Paralympics, the song eventually earned the #4 spot on the country's singles chart and aired again on Channel Four leading into the Opening Ceremonies. Without any major label backing Public Enemy created an audience receptive to their vision.
"Our music has its own nation of people and we don't expect any corporation to embrace or follow what we do. "Harder Than You Think" climbed the charts without any radio play and it was amazing. The song alerted all the usual suspects to what we stood for and what we were against. Radio and television in the UK had no idea where the record came from. Having it used for the Paralympics was very positive and right now, the BBC can't wait for the song to die," laughed Chuck.
He related "Harder Than You Think" to the group's signature anthem, "Fight The Power."
"When Spike Lee picked it ("Fight The Power") for his film Do The Right Thing 23 years ago, media had no choice but to play Public Enemy every time they aired the film," reflected Chuck.
Lee collaborated with Public Enemy again for his 1998 film He Got Game.
Chuck D's recent launch of SpitDigital with Gary G-Wiz further reinforces his belief that an artist can define his own success without mainstream media approval and music industry management. He elaborated on the new online project.
"It helps people understand the mechanics of what it's like to deliver and curate your art. It helps make artists better prepared. I've witnessed a world market of emerging artists that would never have gotten deals under the previous system of record labels. The internet created an infrastructure better than the big hypocritical major labels that were never really there for artists," stated Chuck.
He added that new technology must be subjected to new ways of analyzing progress.
"With new tools we have to look at the results differently and not go by the numbers of what major labels previously defined as success."
As Public Enemy continues writing its legacy, they refuse to rest on their laurels and be complacent. Both records challenge long-time fans to embrace diverse rhythms while working to inspire new fans to be active participants in world events. Most of My Heroes Still Don't Appear On No Stamp and The Evil Empire Of Everything show the urgency of a group willing to confront complex subject matter without fear of reprisal. Daring to push the boundaries of Hip Hop, Public Enemy has worked to evolve a genre often criticized as repetitive.
Having performed in 83 countries to date, Public Enemy truly became "citizens of the world". Rather than be a conscientious objector, Chuck assumes the role of willing participant in an ongoing culture war.
"I'm a culturalist and I'm from the era of people having to come together as a group; the protest era. You have to be aware of any government that tries to be in charge of culture. I don't agree with borders and orders. These new records show we're a force to be reckoned with," he affirmed.
Public Enemy's career milestone has not gone overlooked within the industry they continue to challenge. The Rock N' Roll Hall Of Fame's recent inclusion of Public Enemy to its list of 2013 nominees may provide further debate among critics, but whatever the outcome the group continues creating some of the most prolific music ever to respond to times of uncertainty.
www.publicenemy.com
www.slamjamz.com
www.spitdigital.com