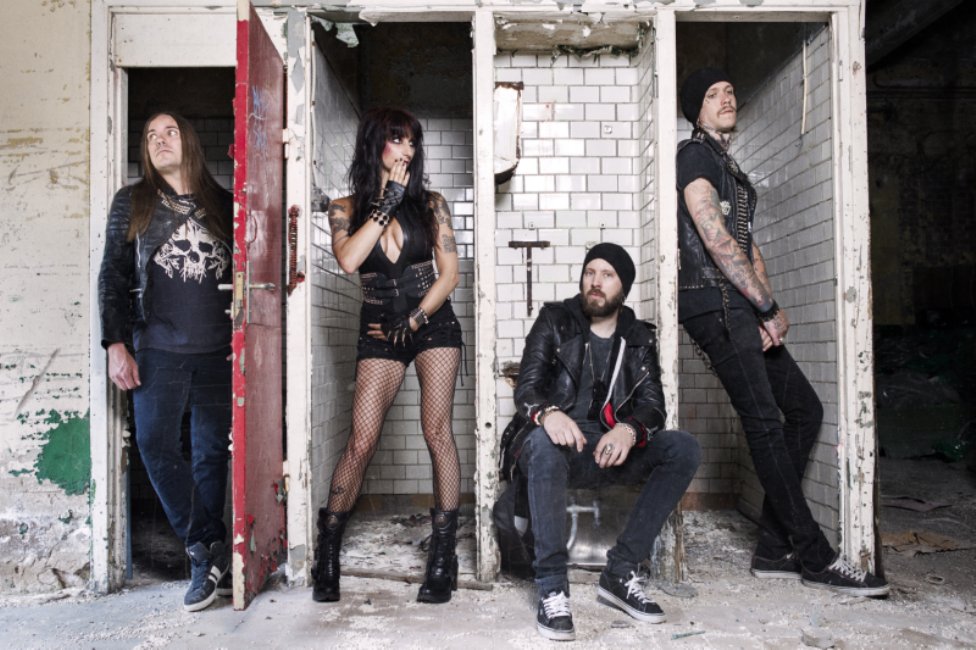 30 July 2015
Sweden's Sister Sin hopes to preserve the best elements of traditional, melodic Metal.
Fronted by vocalist Liv Jagrell, they remain in marked contrast from their peers on this summer's Rockstar Energy Drink Mayhem Festival. Appearing on the Victory Records Stage, Sister Sin hope to show today's younger fans that melodies can be just as strong as the heavy riffs predominantly found on the tour.
"We work to preserve the older sound as much as possible. For us, we're focused on creating a memorable hook or melody as opposed to just writing the most heavy riff," said Jagrell.
Sister Sin first toured the U.S. in 2008 and admitted they were very surprised to find contrasting creative and cultural views. Jagrell maintains that her peers in Sweden are more health conscious and despite the strict competition in her respective music scene, bands remain supportive of one another.
"I'm always surprised to see how many people in the U.S. still drive as opposed to walking. In Sweden, we're very focused on health and try to do as many outdoor activities as possible," she noted.
As for the competitive music scene, Sister Sin collectively agreed that Swedish bands have ambitious career expectations and therefore hold their peers to high standards. Jagrell and drummer Dave Sundberg stated that Sweden's music tastes cycle quickly and it can be difficult for artists to create a fan base.
"I feel America is a little slower with trends. In Sweden, a lot of Metalcore music has stopped but in the U.S. I still see many bands playing in this style," noted Sundberg.
Mayhem Festival features many bands embracing heavy styles coupled with frantic rhythms that appear to make Sister Sin an anomaly. Despite a strong co-ed crowd and evidence of the subculture growing more women artists, Jagrell remains the festival's only woman performer, aside from King Diamond's wife and backup singer Livia Zita. Asked if she has ever felt a burden or responsibility to be a role model to girls, Jagrell quickly affirmed she likes embracing the positive role.
"I was first inspired by Courtney Love. I know she's not the best person but it wasn't until I heard Pantera that I knew I wanted to try and make a career from music. I knew I wanted to do something to help people and inspire them and I do feel responsible to be positive," she reflected.
Jagrell's intent earned recent backlash due to her appearance in Penthouse. Despite being fully clothed, it appeared readers were more focused on her toned figure than her success as a singer.
"I used to model years ago so I am comfortable. When you're an artist you are using your face and body onstage. I am not using my sexuality for some other purpose. The shoot was easy because I chose what I wanted to wear and whom I would work with. I think it went well. People will think what they want," laughed Jagrell.
In Sweden, Jagrell stated the new generations of young women echo her beliefs of strength and independence. The growing Feminist Initiative continues garnering support that may ultimately lead to members earning political office. Cathrine Linn Kristiansen founded the party 10 years ago. Jagrell stated she supported the group and that their positive messages serve as inspiration for younger women seeking change.
"The initiative is lead by a very charismatic woman which some people don't agree with. I think she's very down to earth and the movement is growing. A lot of woman musicians are joining and it's becoming more popular," said Jagrell.
Sister Sin collectively agreed that Sweden remains progressive despite some growing issues such as ostracizing minority groups for every conceivable ill. Sundberg believes that such attitudes continue prevailing and must be addressed. Serving as the group's chief lyricist, he stated Food For Worms is a reaction to intolerance.
"I really think it's too easy to just finger point at others for any problems. I think there are many sides to every story and every voice should be heard," he stated.
Jagrell's ambition to promote such independence is evident by her commanding stage presence, which she cites as a product of her extensive gymnastics and volleyball training. Turning her passion for physical conditioning and nutrition into a second career, she earned certification as a personal trainer and uses it as another avenue to support others.
"I was brought up with movement so being onstage feels natural. Being a trainer helps me to continue working by helping others. I think there is so much we can learn from our bodies but I don't think we understand them and care for them as much as we should," she stated.
From the stage to the gym, Liv Jagrell displays an air of confidence that makes each challenge seem effortless. Residing on high-profile label Victory Records, Sister Sin continues facing the daunting challenge of creating dual, international fan bases. The group continues earning accolades for their newest record, Black Lotus but continue working to gain more U.S. exposure.
"Within our videos and music production we're really working to take more control so we can show people exactly who we are. Before we would work with different producers and I don't think it would always represent what we were saying," reflected Sundberg.
Jagrell added this summer's goal was to be exposed to as many U.S. cities as possible. Touring defies all logic as the group engages in hours of driving for each stop, only to play limited sets to help accommodate the festival's big lineup.
"It's hard because there's a lot of traveling. We want to make sure people remember the best parts of our songs so we work to make it melodic so it stays with fans. You have to be consistent when you play. I think being onstage is physical and I want as much movement as possible so I can interact with everyone," smiled Jagrell.
http://www.sistersin.com/
http://rockstarmayhemfest.com/
http://livjagrell.com/