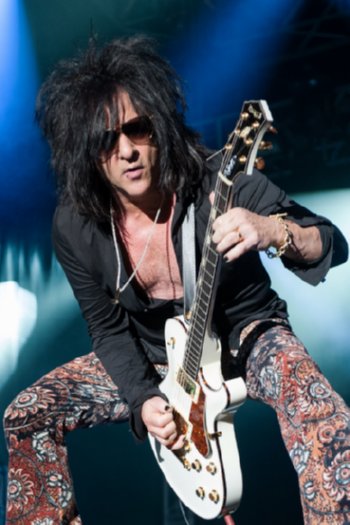 24 November 2015
After three decades of partnership with Billy Idol, guitarist Steve Stevens still believes the singer to be one of the most charismatic individuals he has ever collaborated with. Considering Stevens has worked with legends such as Michael Jackson, one cannot ignore such high praise. Earning multiple Grammy's for his contribution to the blockbuster movie Top Gun and his work on Jackson's multi-platinum Bad, Stevens remains humble and approaches his craft with the utmost respect for the immeasurable gifts music can offer.
"I am a firm believer that music is the ultimate form of self-therapy and meditation. I have been playing since I was 7 but it still continues to make such an impact on me," affirmed Stevens.
He stated his initiation to rock n' roll began after his brother took him to a James Gang concert. Stevens' vivid account for the energy and passion inspired him to continue playing, ultimately leading to his acceptance to New York's prestigious LaGuardia High School For The Performing Arts. The school earned widespread recognition after serving as inspiration for the 1980 movie, Fame .
"It was really something to be surrounded by all kinds of creative people. I think my time there was great, it really meant a lot to me. There are so many studies that prove that kids in grade school have better behavior and cognitive skills from playing music," stated Stevens.
Growing up in New York, Stevens quickly stated how enamored he became with the New York Dolls and other local artists. Being in marked contrast from his 80's peers that critics all too often lump Stevens with, he affirmed his love for the NY punk bands actually saved him from the explosion of 'shred guitar'.
"Being from New York saved me from that craze. When the shred thing hit there were a lot of Van Halen wannabees in LA trying to cash in," reflected Stevens.
Critics quickly lumped the Los Angeles bands under the Sunset Strip moniker and many club acts suddenly found themselves on arena tours. This explosion undeniably gave way to the clichés that dominated music videos while guitarists were earning exclusive contracts with instrument companies. Stevens had secured a deal with Hamer Guitars and once worked with the obligatory,company of the decade: Jackson/Charvel. His custom 1985 San Dimas Charvel remains a hot topic among online forums. Today, Stevens has a signature model with Knaggs Guitars and signature pickups courtesy of Bare Knuckle.
Stevens believed his songwriting stood apart from his peers. While other players sought to out duel each other with lightning speed solos and over the top antics, Stevens carefully worked on his craft while laying the foundation for becoming a highly sought after session guitarist.
"I always worked to have enough technique to carry out the songs but I never wanted to overshadow the people I would work with by doing solos for the sake of doing them," he said.
What makes his performances with Idol unique is that both artists play to each other's strengths without any struggle to dominate the spotlight. In retrospect, he stated it was a long process to finally finding the perfect singer to compliment his playing. Stevens had built his reputation under an'every note matters' mantra and earned nothing but positive feedback from everyone he worked with.
Meanwhile, across the pond Idol's time with the UK punk outfit Generation X drew to a close. Idol moved to New York in '81 and as luck would have it, Stevens was searching diligently for a singer to help execute his songs. He reflected on his daunting search.
"We were all of 20 years old when we first got together," laughed Stevens, whom was under contract with ex- Kiss manager Billy Aucoin.
"I was frustrated because I couldn't find the singer I needed. I was really looking for a strong personality, a true star. I eventually got a call about Idol, whom I knew from Generation X because Dancing With Myself was already an underground hit. He was so charismatic but what set him apart was that he had a battle plan and a strong idea of what he wanted to do," said Stevens.
He added, "We wanted a stripped down, DIY sound with the energy of English Punk. At the same time we formed there was the dance music and electronic sound going on and we were really influenced by that."
Their first gig was largely unannounced and took place at the famed Max's Kansas City venue. Best known for being the home of Stevens' much-loved New York Dolls, the duo sparked enough interest to earn consistent bookings around the city. Billy Idol's rise to fame appeared sudden as the group's '82 debut contained the future hit, White Wedding,
"I really don't feel our rise to fame was that quick. First off, we were still touring in vans and I knew nothing when I went to record. I really have to give props to our producer, Keith Forsey. He taught me so much about music and sound and has been a huge influence on my growth as a musician," complimented Stevens.
The self-titled debut charted at #45 but what pushed the group over the edge was their embracing of MTV. Launched one year prior to Idol's debut record, the small station attempted to make music more interactive by utilizing video content to promote artists. Combined with the recording industry enjoying previously unheard of success, a perfect storm was underway.
"We knew everything would require hard work. White Wedding was something special but what it did was give us a strong foundation to write for what became the Rebel Yell record," recalled Stevens.
The White Wedding video became an MTV staple and Idol, reluctantly or not became a pop heartthrob. For Stevens, the success did not lead to excess. Earning industry recognition for his work ethic he continued his session work while consistently gigging with Idol. Asked to recount his work in Top Gun and his surprising pairing with Michael Jackson, Stevens once again downplayed his role in favor of commending the other artists.
"My work in Top Gun was an extension of Billy. Harold Faltermeyer was playing keyboards for our Whiplash Smile record. He casually mentioned this movie to me and how they needed someone to do the theme on guitar. At the end of the day we rolled tape and I think it took all of 3 hours to complete. I had actually forgotten about it for awhile," laughed Stevens.
Top Gun became one of the highest grossing movies of the decade and Stevens earned a Grammy for Best Pop Instrumental Performance in 1987. His work with Michael Jackson earned Dirty Diana a top 5 placing on BillBoard's Top 100 in 1988.
"I was really happy to work with him and Quincy Jones, I think a lot of those records are flawless. I had expected a big entourage but it wasn't like that. They were really interested in what I had to say. Michael is very music literate and had a great ear. It was a great collaborative effort," reflected Stevens.
Asked what experience with Jackson truly struck a chord, Stevens noted his generosity.
"There was a benefit concert at Madison Square Garden for the NAACP. I was with my family in New York and really wanted them to attend but there were literally no seats available. I was bummed. Michael personally made an entire row of seats available for my family, it was really a nice gesture," said Stevens.
After decades of touring and collaborating with Idol, Stevens approaches music with the same zeal. Asked how he works to maintain excitement for songs written decades ago, Stevens cited their appearance on VH-1's Storytellers as a unique opportunity to revisit and present their material in new ways, including an intimate acoustic performance of Rebel Yell.
"I can't speak for Billy but that was a great experience that helped us get back to how we first started writing. On record, there were always numerous overdubs and playing live I would be doing an amalgam of parts. Doing Storytellers really re-invigorated me," exclaimed Stevens.
But perhaps the strongest reason for his longevity with Idol is the duo's enduring friendship.
"After all this time I'm still a fan of his. There's this underlying chemistry with him that I just don't get from anyone else and I really value our friendship," said Stevens.
photo credit: Daniel Strub