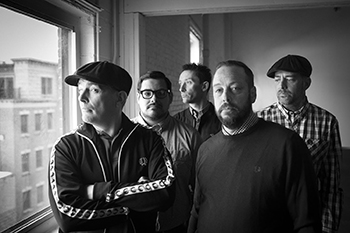 1 June 2018
Street Dogs have returned with Stand For Something Or Die For Nothing, their newest record in over seven years. Featuring their hallmarks of melody and political discourse singer Mike McColgan affirms the ongoing sociopolitical climate should be more than enough to unite citizens and artists to challenge what he terms "regressive and divisive policies."
"I don't think we have played it safe on this album and I do feel a lot of other bands chose to step back during Trump's election. I think more people need to step up," he stated.
When briefly asked about the presidential election McColgan unequivocally stated "The more qualified and right individual for the job was railroaded."
"I believe the entire election process was illegitimate and the Democratic Party railroaded Bernie Sanders. I think he is a man of the people and not a charlatan," he added.
Street Dogs have been longtime advocates of labor rights and the preservation of civil liberties, paramount themes within every record. McColgan cites his family as a source of inspiration for his celebration of unions and their collective mission to improve U.S. labor standards.
"I was always raised to fight for my beliefs. My family goes back generations as being involved in unions and I'm still appalled at the ongoing disrespect toward the American worker," he stated.
McColgan's Gulf War service and fire department career continue to reaffirm his convictions of the value of honest work and the sacrifices individuals have made in the name of their families and country. Artists conveying political messages are often heavily scrutinized for perhaps paying lip service but Street Dogs have been among the most consistent groups, best exemplified by their 'boots on the ground' approach in response to Wisconsin's acrimonious 2011 labor protests. Performing several concerts for protesters while working to bridge the gap between officials and unions the group made positive strides toward resolutions but a self-imposed hiatus sidelined them. McColgan briefly reflected on the group's decision.
"We had to take a break at that point to spend more time with our families and lead more responsible lifestyles."
McColgan believes the timing could not be more appropriate for the group's return. Despite a dramatic lineup change, notably welcoming Darkbuster guitarist Lenny Lashley Street Dogs sound refreshed and urgent and the lapse between records could be an afterthought once fans are reminded of their spirited live show. Stand For Something Or Die For Nothing is an uncompromising title befitting of Street Dogs' collective mentality of never giving up and never giving in. Released via Century Media, a label best known for Metal artists McColgan stated he was just as surprised as fans when the label offered them a new home.
"We left HellCat and did release some singles on Pirates Press after the self-titled record. To be honest, we were just as surprised as our fans when Century came in with an offer. For me, Street Dogs already surpassed my humble expectations because when we started slugging it out in 2003, I thought we would just play a few shows or something and now? I'm so grateful for the ongoing support and without our fans we are nothing," said McColgan.
Street Dogs hold the unique distinction of successfully uniting veterans, sports fans, and rock & rollers. Their messages have been resoundingly embraced and during their height the group was selling out international dates. McColgan's 2014 national anthem performance at Fenway Park undeniably exposed Street Dogs to a whole new audience, perhaps breaking the widely accepted paradigm that sports and punk do not coexist. X bassist John Doe followed suit and sang the anthem last year before a sellout crowd at baseball's Dodger Stadium. McColgan reflected on his unique and impacting experience.
"That was an honor. Playing in these situations makes me grateful and we don't make any secret about our support of sports. I have been playing onstage with a Red Sox cap and have team tattoos. We knew it was a unique opportunity and something that wouldn't alienate our core fans. I'm all for coming to them, so to speak and as a group, if we believe in something we're just going to do it."
Street Dogs have returned in the face of uncertain times as the U.S. continues the fallout from a highly contentious election and the ongoing erosion of civil liberties. Espousing what could be termed 'punk rock populism' McColgan was not worried the group's hiatus would hinder their efforts to reinforce their convictions.
"We made our beliefs very clear with the title of the record. With Street Dogs, we really surpassed our humble expectations and try hard to show that we are not above or below any of our fans. We're on equal footing. The people have spoken with their continued support of our music, showing us they value it and the messages behind it," he concluded.
https://www.facebook.com/streetdogs/
http://www.centurymedia.com/artist.aspx?IdArtist=1953