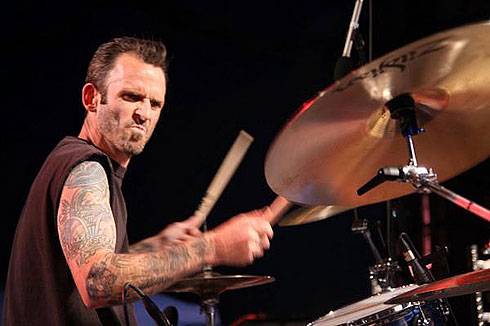 11 April 2011
Swingin' Utters stalwart drummer Greg McEntee has dedicated more than half his life to punk's unchallenged troubadours. His strong work ethic has anchored the band for nearly two decades, but a major setback in 2002 threatened to derail the band's future.
"Dead Flowers, Bottles, Bluegrass & Bones was our last record with our guitarist, Max Huber. He ended up quitting before it was done and we were all on edge. All of us had trouble getting along and the band's future was really up in the air," sighed McEntee.
After a self-imposed hiatus in 2003, Swingin' Utters have emerged with Here, Under Protest, their first new full-length record in over 8 years! Once again, recording posed unanticipated struggles for the group. Evolving roles in life such as marriage and fatherhood coupled with relocations hindered the band's ability to consistently rehearse and maintain cohesive studio schedules.
"This new record is really rejuvenating! Despite the delays from technical difficulties this record has had a real positive vibe. We're lucky to have Jack Dalrymple as our second guitarist and the band has been getting along really well!" exclaimed McEntee.
According to McEntee, Here, Under Protest is a true return to form.
"All of us have such broad backgrounds and love all kinds of music. I love the positive anger of punk rock but I've grown, too. Just because you're a punk rocker, doesn't mean you can't be a good musician," said McEntee.
Lead guitarist Darius Koski was a classically trained violinist and the group's haunting ballads have been a showcase for this talents. What has always set Swingin' Utters apart from their peers was their consistent songwriting and diverse instrumentation. Their lyrics have always been able to grow with their audience due to their exploration of ever-changing roles in life. The band's hiatus hasn't affected McEntee's ability to stay fresh and his passion remains as strong as ever.
"Drums are very primal and it's from your soul because it's so physical. I think it's the freest instrument because there are no rules. I love filling in for other bands because it keeps me in shape and it's such a release," said McEntee.
He added, "I was always shy growing up so drums suited me because I never had the need for the spotlight."
McEntee was able to cope with the group's hiatus by reaching out to friends and hitting the road with other bands. To date, he has appeared with U.S. Bombs, One Man Army, and The Lustkillers. Black Sugar Sessions by The Lustkillers ultimately sparked a European Lords Of The New Church reunion back in 2003. McEntee reflected on the band's success and was proud to be part of the process.
"I remember being contacted by Adam Becvare who told me the good news. Lustkillers did mostly local shows in California and the record wasn't even officially out yet! Brian James actually sought out Adam for the Lords reunion. The reactions were great and Lustkillers really got hooked up opening for big bands. Sometimes we had a second guitarist from Jet Boy!" exclaimed McEntee.
McEntee has also been fortunate enough to tour Europe on several occasions.
"I remember this one with the 'Bombs. I've known those guys for years but that tour was sketchy. We didn't get time to practice so some songs sounded a little rough," McEntee laughed.
Swingin' Utters have undeniably progressed from their humble Bay Area origins. From mere party band to signing with Fat Wreck Chords to briefly meeting Sony executives, the band has rightfully earned the respect of their peers and fan base.
"Being from the Bay Area, you have to understand that things are very p.c. and punk bands are under a microscope. There's always a lot of debating within the punk community about who is doing this and that. When Fat blew up in the 90's it was a crazy time because people tended to overuse the word 'sellout' and any kind of success was scrutinized. You can only play music free for so long," said McEntee.
Greg continued to reminisce about the band's beginnings and laughed as he reflected on his career with Swingin' Utters.
"When I first started Swingin' Utters with Johnny Bonnel it was called Johnny PeeBucks & The Swingin' Uttters and we always played these wild parties. I was always drinking a lot, getting into trouble," he said.
He was happy to state that he worked hard on himself and has since earned 8 years of sobriety.
"When I was drinking I made sure to be sober onstage out of mutual respect for the fans. I have a strong work ethic and when I do something I do it the best I can," McEntee stated.
"Thinking about sobriety, I was finished doing things that were wrecking my body and my relationships," said McEntee.
As Here, Under Protest gets fine-tuned for its release, McEntee shared his excitement.
"We're getting set to do a west coast tour with Reverend Horton Heat! From there, we're working on booking a headlining east coast tour. I really can't wait to be out there again! The hiatus did create some positive songwriting for us. Maybe spending time away from each other did some good. And me? Music really did save my life," declared McEntee.