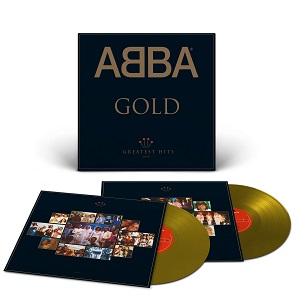 23 September 2022
Due to contemporary superstardom, musicals based on their work, frequent licensing in movie and TV shows, think pieces that continue to pop up, endorsement by musicians with whom they have nothing in common stylistically, and constant radio play over the decades, it's safe to say that ABBA never really went away. Still, with a new album released last year after a forty-year break and record companies being what they are, the time is ripe to revisit the band's classic catalog. Hence the thirtieth anniversary gold vinyl edition of Gold, the early nineties greatest hits set that became their bestselling album and went a long way to extending Agnetha Fältskog, Björn Ulvaeus, Benny Andersson and Anni-Frid Lyngstad's artistic lives into the new century.
Let's face it: you know almost all of these songs, whether you like 'em or not. "Waterloo," "Take a Chance On Me," "S.O.S," "Mamma Mia," "Knowing Me, Knowing You," the immortal "Dancing Queen" – to use a cliché, these tunes are woven into the fabric of our lives. But that doesn't make it any less fascinating to examine these songs with a certain remove. It may be hard to see now, with most of these tracks instigating instant singalongs, and their chart acolytes invoking their spirit and influences, but a lot of these songs are kinda weird. "Dancing Queen" is a good example: clearly aimed at discos, but not quite fitting properly under that banner; boasting a melody that, bereft of rhythm and played on an acoustic guitar, sounds mournful and pleading; armed with lyrics that express familiar sentiments in off-kilter ways. "With a bit of rock music/Everything is fine/You're in the mood for a dance" makes its case clearly, but doesn't exactly tumble off the tongue outside of the song. And yet, that song is irresistible. The same sentiment can be applied not only to their other hits, but the lesser-known tracks included here, like "Chiquitita," "Does Your Mother Know" (a rare lead vocal from one of the boys, namely Ulvaeus) and "Super Trouper."
It may seem silly to say it now, but when ABBA first started spewing out hits, there wasn't anyone else that sounded quite like them. The vocal arrangements, sentimental melodies (some of them clearly derived from European folk and classical music), proto-disco beats, and ostentatious production flourishes sound old hat now, after so many years of ubiquity and influence on pop acts to follow, but at the time they were quite distinctive. Even now, compared to the hits of the day, they stand out, representatives of a different, unique period in music history, retaining a fresh innocence that belies their era. Which is a somewhat convoluted way of saying that, nearly a half a century on, ABBA's songs hold up quite nicely. And what better way to hear them again than on the format on which they originally debuted?