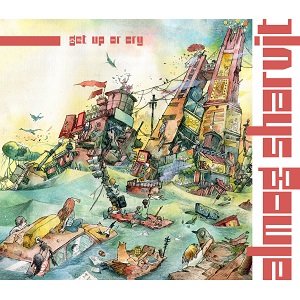 28 May 2021
Almog Sharvit is a jazz musician for whom words like "tradition" and "purism" have elastic meanings. That's not to say the Israeli-born/Brooklyn-based conservatory-trained bassist and composer doesn't respect what came before him – he clearly does. But for him, all facets of this diamond called jazz have something to offer, and he's happy to indulge in all of it…all at once.
Sharvit begins his debut Get Up Or Cry with "Dear Hunter," a twenty-first century interpretation of the pre-swing jazz of the 1920s and '30s, with collective improvisation around a hooky melody, jaunty rhythms, but a modern sheen – especially when Brandon Seabrook puts down his banjo to casually rip it up on guitar in the background. That tune is immediately followed by "Roller Disco," which nods to an era a half-century later than "Dear Hunter," and slathers its almost cheesy melody in finger-busting synth solos courtesy keyboardist Micha Gilad. That song, in turn, is succeeded by the classically-influenced ballad "Mx. Bean," with a glissando melodic line from trumpeter Adam O'Farrell, lovely solos from Gilad and Sharvit himself, and some flute frosting from guest David Leon. But as the tune progresses, things get weird, with O'Farrell twisting it into a more drunken shape, and Seabrook hopping in and out on guitar. You get the picture.
Sharvit seems hardly content to stay in one mode for too long, not when there are so many others (glitch-poppy nü-jazz, atmospheric torch balladry, prog-laced serenade) that deserve exploration. The title track even includes lyrics adapted from a poem by Vladimir Nabokov. Both irrepressibly mischievous and highly skilled, Sharvit covers a lot of ground for one record – and in only twenty-six minutes, too! – but his acumen as a bandleader and composer keeps Get Up Or Cry from going off the rails.