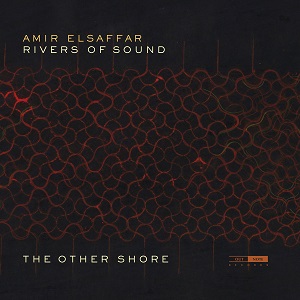 29 September 2021
There are musicians who combine genres, to find the ways the frisson between styles can produce something interesting. Then there are the artists who want to simply obliterate genre designations altogether. Trumpeter and composer Amir ElSaffar has a wide range of experience with classical music, jazz (including stints with Cecil Taylor, Vijay Iyer and Rudresh Manthappa) and the traditional music of his Iraqi heritage, with ensembles dedicated or influenced by each. But his vision involves more than just bringing elements of these musics together, as evidence by The Other Shore, the second album from his Rivers of Sound Orchestra.
Here ElSaffar puts everything in one basket, gives it a good shake, and processes the results. In this world, saxophones sit next to string sections and Middle Eastern instruments like the mridangam and buzuq, guitar shares the plectrum lines with a pair of ouds, and all of it performed by a cross-section of players including friends, family, schoolmates, bandmates and top-tier jazz improvisers like Miles Okazaki, JD Parran and Nasheet Watts. ElSaffar himself switches between trumpet, santur (an Iraqi dulcimer-like instrument) and soulful Middle Easter vocalese. Jazz spontaneity intertwines with classical structure, with Arabic and Iraqi elements filling in the empty space. Gorgeously arranged longform pieces like "Reaching Upward," "Lightning Flash" and "Dhuha" take their time unfolding, presenting their lush melodies and instrumental ornamentation with amazing precision, all in service of the leader's organic aesthetic.
To call the music a blend of all these apparently disparate elements seems like a disservice. ElSaffar understands the advantages of each, but gives it all pride of place, seamlessly weaving each tradition together so that the music comes across less as a hybrid and more like a single sonic wave. The Other Shore isn't genre-fucking – it's the beautiful, fully-integrated offspring of that act.