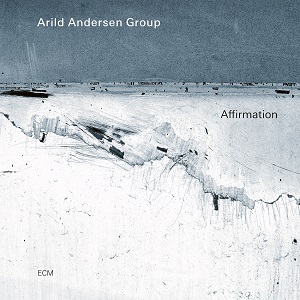 26 October 2022
Veteran Norwegian bassist Arild Andersen is well known not only for his expert, tasteful playing, but also for his extraordinary compositions. For Affirmation, however, he's taking a different road. Joined by his new band (saxophonist Marius Neset, pianist Helge Lien, drummer Håkon Mjåset Johansen), Andersen creates a seven part suite that's improvised by the four musicians.
Neset leads the melodic way, unsurprisingly, his horn by turns sensuous and playful. Andersen and Johansen lock in on the pulse, while still adding fills and flourishes that keep them from being simply groovers. Lien adds his own garnishes, wandering further afield than his colleagues, but leaving plenty of air in between his fingerings. He also trades lines with his boss, whenever Neset feels the need to lay out. The piece moves from contemplation ("Two") to vigor ("Four," "Five") and back to introspection ("Seven"), driven by the bassist's rubbery lines and the group's telepathic communication. The tune's ebb and flow holds attention from the first note to the last.
The quartet ends the record with an encore of sorts: the melodic, almost sentimental "Short Story," a breath of fresh air after the long but fascinating journey that preceded it. As he edges ever closer to 80, Andersen proves with Affirmation that he's still got plenty left in the tank.