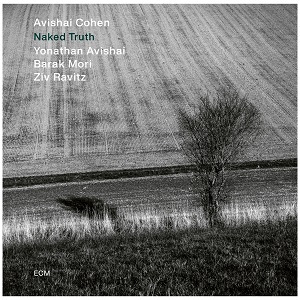 24 February 2022
Trumpeter and composer Avishai Cohen makes some of the most enigmatic, beautiful and downright interesting music in modern jazz. At first blush his work on The Naked Truth – his fifth album for ECM, the perfect label for his vision – falls into the tradition of the brooding balladry of Miles Davis and Chet Baker. But don't be deceived. Deeper listens reveal more – much more – going on here.
Check in with "Part III," as drummer Ziv Ravitz starts to get wilder and wilder on his kit, bassist Barak Mori moves from counterpoint with pianist Yonathan Avishai to more unconstructed wanderings and Cohen himself switches from probing mute to a brasher open horn – all while Avishai keeps the melodic thread intact. "Part IV" shifts in the opposite direction, as it keeps the head of steam built by "III" going at first, before settling into a meditative stream that leads to an unsettled ending. The record ends with Cohen reading "Departure," a poem by Israeli author Zelda Schneurson Mishkovsky that reflects on mortality and the importance of letting go – a common thought in these trying times.
Whether or not that train of thought is the one Cohen intends for us to ponder is up to each of us. The leader's warm tone, whether open or muted, builds a welcoming bridge to the esoterica, and there's an obvious influence from classical music, especially from Avishai's keyboard work, that keeps the music accessible (cf. "Part VII"). The balance between intellectual reach and devotion to ear massage here allows Cohen's compositions to set the listener up for some complex musicianship and incisive meaning, encouraging us to glean whatever message we need from The Naked Truth.