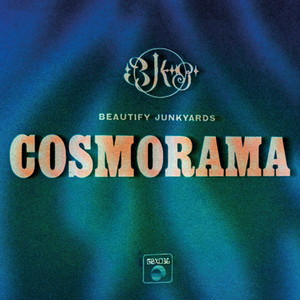 1 January 2021
If I had to use one word to describe the otherworldly music from Portugal's Beautify Junkyards, it would be dreamy. I sometimes wonder if aliens have landed and added musical textures to the gorgeous sonic melange produced by this group headed up by keyboardist/vocalist/songwriter João Branco Kyron. Kyron is joined by Helena Espvall (formerly of Espers) on cello, flute and electric guitar, João Moreira on acoustic guitar and keyboards, Sergue Ra on bass and Antonio Watts on drums and percussion. The band's newest member Martinez joined in time to contribute vocals to "Garden by the Sea". Musical guests include Nina Miranda (Smoke City) on vocals on the title track, "Reverie", and "Parangolé", Lake Ruth's Allison Brice doing a vocal turn on "Deep Green, and harpist Eduardo Raon on "A Garden by the Sea" and "The Fountain".
Cosmorama is the band's fourth album and their second on Ghost Box. I'd be hard pressed to give a hard and fast description of this release, as it's a constantly shifting musical cape, colors swirling about as crystalline notes settle around you. The instrumental passages are exotic swatches of tropicalia meshed with dreamy psych folk. You might be reminded of Os Mutantes and Broadcast if you follow those groups. Or go back even further to the Incredible String Band and their unusual twist on pastoral folk rock. Whatever suits your fancy, there are many delectable sonic nuggets here, sure to please listeners across genres. Male and female voices swirl together in counterpoint, shifting between languages in a hazy daydream you never want to end.
"Dupla Exposição (Double Exposure)" is the album opener, and it's a strange beast indeed. Mysterious and full of seductive shadings, it will suck you straight into its enchanting maw. Serene vocals lure you into a false sense of security, and then a second voice (Nina Miranda) joins João and twines around a flute-like melody, courtesy of the talented Helena Espvall. It underscores the unique qualities of this collective and the 'curiouser' mantra shoves you straight down the rabbit hole. I love the sprightly "Reverie", with Nina taking the lead vocal. She has a wonderful voice, perfect for the fairy tale web spun by the group. 'The Sphinx' is cosmic and wonderfully strange space pop. I adore the instrumental backdrop and the vocal lines, especially the keyboards. "Parangolé" is whimsical and childlike in spots, seamlessly meshing Portuguese and English. It is effortlessly charming and has lovely percussive moments. We are once again treated to Nina's sweet vocals, and what a bounty it is. This is quite possibly the prettiest song on the album, but I may contradict that as I listen through. These are such accomplished musicians; they make it all seem so easy.
"A Garden By The Sea" introduces new vocalist Martinez, who fits in wonderfully well with the fantastical tapestry woven by the group. This is another glorious tune, and it has a haunting quality that I find mesmerizing. "The Collector" is an interesting song. It has its creepy, introspective moments, but there is something spellbinding about it that keeps me enthralled. And oh, the cello, how lovely that element is. My favorite stringed instrument by far, and a great addition to the band's sound. The title track is more closely akin to traditional English folk a la Fairport Convention or The Pentangle. A lovely gem to be sure. "Zodiak Klub" is an unusual entry in the band's oeuvre. The lead vocal is almost languid, but it's backed up by some frenetic musical accompaniment. Uneasy listening for most people. "Vali" is pastoral and filled with chirping birds, sure to allay the senses of even the most neurotic listener. It is perfect music for this pandemic, soothing instead of alarming. "Deep Green" continues in this vein and features the wonderful Allison Brice from Lake Ruth. Given her band's predilection for unusual, exotic textures and musical themes, she is perfectly at home on this sublime song. I could not imagine a more perfect pairing than this. I hope to hear future collaborations between these two groups as they complement one another perfectly. The final instrumental, "The Fountain", is drenched in melancholia, and its music box musical passage turns it into the soundtrack for your next haunted house visit. And then it changes mid-stream, to something less spectral and more vampiric. Violin and fun house organ will catch at you, and the spoken word section makes it all the stranger. An odd but compelling end to this wonderful record, one you will not soon forget as it takes its early place among the best releases of 2021.
Catch up with the band over on Facebook and pick up the album on Ghost Box Records.