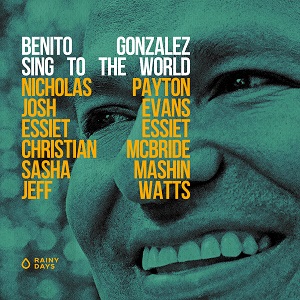 13 May 2021
Born in Venezuela and based in New York City, jazz pianist Benito Gonzalez has amassed quite a resumé in his years on the scene. The 44-year-old has stints with heavyweights like Jackie McLean, Kenny Garrett and Azar Lawrence under his belt, and today acts as pianist and musical director for spiritual jazz pioneer Pharoah Sanders. He also has half a dozen albums as a leader, of which Sing to the World is the latest.
Gonzalez doesn't waste any time getting to the point, opening the record with the perfect storm of "Sounds of Freedom." The rhythm section swings hard and Gonzalez ripples his way across his keyboard, using his prodigious technique (derived from studying monster keysmen like McCoy Tyner, Chick Corea, Herbie Hancock and Keith Jarrett) to convey his melodic ideas, rather than show off. Tunes like "Visionary," "Flatbush Avenue" and the title track follow suit, with breathless energy and deft maneuvers that let all of the musicians (particularly bassist Christian McBride) put their two cents in. It's not all fast 'n' furious, however – Gonzalez experiments with rhythm on "Offering," "Colors" and "Smile," going for easier swing and emphasizing melody over flash. He also gives trumpeter Nicholas Payton the spotlight on the exquisite ballad "412," guest-written by drummer Jeff "Tain" Watts.
Gonzalez continues his association with high-profile names here, as evidenced by the presence of Payton, Watts and McBride. But he also works with fellow up-and-comers like saxophonists Josh Evans and Makar Kashitsyn, bassist Essiet Okon Essiet (a longtime Gonzalez compatriot) and drummer Sasha Mashin. Regardless of who the sideperson is, however, they all serve the same purpose: support the leader's tunes and vision. That vision encompasses twenty-first century energy married to tradition-minded, but not hidebound, jazz forms to make Sing to the World one of the most exhilarating jazz albums to emerge in some time.