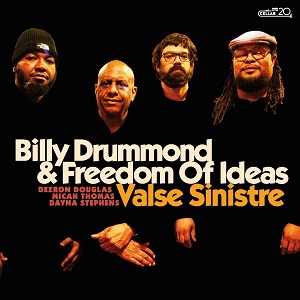 4 August 2022
Drummer Billy Drummond has long been a rhythm keeper's rhythm keeper, the demand for which might explain why he hasn't headlined a recording since 1996. (Cf. records by Horace Silver, Joe Henderson, Sonny Rollins, Carla Bley, Steve Kuhn, and tons more) Valse Sinistre, recorded with his backing trio of bassist Dezron Douglas, saxophonist Dayna Stephens and pianist Micah Thomas, doesn't so much make up for lost time as make it seem like time hasn't passed.
Coming on strong right out of the gate, swinging opener "Little Melonae," a bopping calling card composed by Jackie McLean, sets the tone with hot playing on a strong tune – a path followed later on a sizzling take on "Reconfirmed," from the book of the late Stanley Cowell. Carla Bley's title track lets the band sink its teeth into the record's most accessible melody, while Frank Kimbrough's "Clara's Room" puts the ballad form through its paces, ending up far away from a slow dance. On Grachan Moncur III's "Frankenstein," Thomas and Stephens spiral around each other in gleeful outsider playing, egged on by the leader. Drummond's "Changes For Trane & Monk" puts the drummer's spin on the aesthetic of two jazz iconoclasts.
All this showcases Drummond's versatility as timemaster and bandleader, his sonic signature acting as the throughline for every track. The songs may come from various walks of jazz life, but in Drummond's capable hands, they all sing from the same soul.