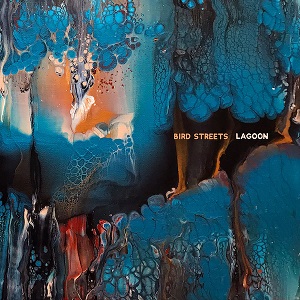 1 November 2022
Under the name Bird Streets, well-traveled singer, songwriter and pop maestro John Brodeur made one of the best rock debuts in a long time with 2018's self-titled LP. While that record found Brodeur working as a duo with Jason Falkner, here the auteur expands his base of worker bees, recruiting producers Patrick Sansone (Wilco, the Autumn Defense), Michael Lockwood (Fiona Apple, Lions & Ghosts) and the team of Zach Jones and Oscar Albis Rodriguez, plus John Davis (Superdrag), Ed Harcourt, Aimee Mann and legendary Big Star drummer Jody Stephens as sessioneers.
But Lagoon is no guest star-laden tilt-a-whirl – it's Brodeur's vision through and through. Apparently working through some issues – a divorce, depression, the realization that conquering addiction doesn't automatically make everything better – the writer creates a song cycle concerning the use of art to stave off the demons. "Sleeper Agent" begins with the naked honesty of "I gotta tell you/I'm kind of a mess," and the rest of the record lays out both the many ways in which it's true, and how best he's dealing with it. "I broke my heart/Here's the document" he sings on the quiet "The Document," and it's less a confession than a taking of responsibility. Anger (self-directed?) overcomes the rocking "Ambulance," while regret suffuses the folky "Unkind." The self-loathing of the intimate "Burnout" and the precarious self-reflection of the baroque "Disappearing Act" show understanding that hard-won sobriety doesn't translate to peace, no matter how well-deserved.
"I don't wanna let you go, but/I don't wanna let you down/And I don't know how to let go" Brodeur admits on the psychedelic folk pop of "Let You Down," and it's that confusion that earmarks the emotional arc through which he puts himself for the sake of our entertainment. Disorientation doesn't equal thoughtlessness, however, nor does it indicate a complete lack of wisdom. "No matter how much time has passed/I never know how long it's gonna last" he notes at one point, which is the realization all of us come to on our journeys. Brodeur just expresses it more tunefully on Lagoon.