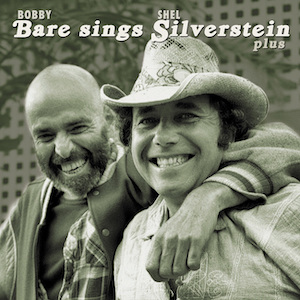 10 November 2020
A celebrated children's book author ("Where the Sidewalk Ends"), as well as a cartoonist and playwright, the multi-dimensional Shel Silverstein probably made his biggest mark as a songwriter, with such witty hits as the Johnny Cash smash "A Boy Named Sue" and Dr. Hook's "The Cover of Rolling Stone" to his credit. The performer most associated with his tunes, however, was the smooth country crooner Bobby Bare, who helped craft the template for the polished countrypolitan sound in the '60s on such smashes as "Detroit City" and "Five Hundred Miles Away from Home."
Bare shifted gears in the early '70s, becoming a charter member of the outlaw movement that rejected conservative Nashville formulas and made superstars of Willie Nelson and Waylon Jennings. From 1972 to 1983, he recorded more than a hundred of Silverstein's inventive compositions, in the process creating the classic albums Lullabys, Legends and Lies and Down & Dirty. Offering 137 tracks (most written or co-written by Silverstein) on eight CDs, including more than two dozen previously unreleased cuts, along with a large, 128-page hardcover book, this wonderful set is a feast of irreverent humor, bracing social commentary and tender vignettes.
Among the six full or expanded albums featured in Bobby Bare Sings Shel Silverstein plus are Hard Time Hungrys, a chronicle of economic struggle, and the family-oriented Singin' in the Kitchen, while two discs of "Stray Bare Tracks" collect singles-only releases or otherwise-overlooked Silverstein songs from other projects.
On the basis of sheer bulk alone, this massive compilation could seem daunting, which is the opposite intent of the music. A supremely genial vocalist, Bare's easygoing style brings a warm glow to gentle ballads and boozy barroom singalongs alike. Dig almost anywhere and a gem awaits! A few highlights: the toe-tapping tale of voodoo queen "Marie Laveau," which topped the country charts in 1974; "Yard Full of Rusty Cars," a sly, talking blues-style account of down-home hospitality; and the aching love song "When She Cries."
Much like a great short story collection, Bobby Bare Sings Shel Silverstein plus brings all manner of memorable characters to life, celebrating oddballs, losers and renegades. It's a perfect match of brilliant composer and masterful interpreter.