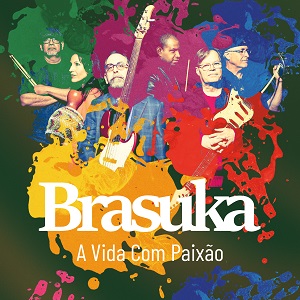 6 December 2021
Though based in Dallas, Texas, the hearts of the members of Brasuka live in Brazil. The sextet uses expert musicianship to blend various Brazilian styles with elements lifted from jazz, folk, soul and even American soft pop for the ten songs on debut LP A Vida Com Paixão.
Driven equally by rhythm and melody and alternating between Portuguese and wordless vocals, cuts like "Deusa Do Meu Carnaval," "Marakandombe" and the title tune (like nine of the ten tracks, all originals) sound positively infectious, hitting the hips and the ears equally. A duet between keyboardist Rosana Eckert and percussionist Ricardo Boza in two different languages, "Praia Felix" gets its tropical groove on in tribute to the titular beach. Written and sung by Cuban keyboardist Denny Robinson, "La Higuera" ups the percussion factor without stinting on lush melody. Sung in English by Eckert , the jazzy ballad "Reina's Song" could have come off any number of sophistipop records from the last few decades, its Brazilian influences more feel than form. Only the closing cover of the Beatles' "Sgt. Pepper's Lonely Hearts Club Band," while clearly playfully conceived, feels out of place, emphasizing jazz-rock fusion theatrics over Brazilian atmosphere and sounding like it wandered into the room from another album.
Anyone hoping for the frenetic rhythmic edge that other forms of Latin music often possess may be disappointed here – Braziliana usually favors sweet melody and seductive groove over high energy performance or hellbent-for-leather percussion blaze. But anyone with a taste for those sounds will find much to love in Brasuka's loving evocation of what makes this music so engaging.