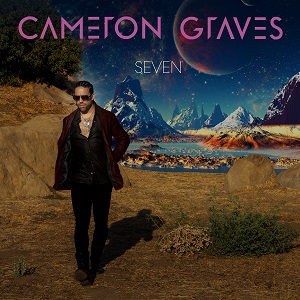 23 March 2021
When one hears about a blend of metal and jazz, one expects the occasional swing rhythm or tricky time signature to accompany heavily distorted ninth chords. While there are indeed artists that work that way, usually metal musicians who studied jazz at school (cf. Dyzrhythmia), there's another angle as well. Pianist Cameron Graves, best known for his work with Kamasi Washington and Stanley Clarke, shines a bright light on that path with his second album Seven.
Rather than cover his tunes in distortion or screaming (not that the avowed Meshuggah fan has a problem with either of those things), Graves incorporates death and thrash metal's dynamic sense, adroitly shifting rhythms from off-kilter jaggedness to forthright rocking. Alongside spitfire guitarist Colin Cook, Graves rips out melody lines that inject extra muscle into rippling single note lines and bottom-heavy block chords. Drummer Mike Mitchell is unsurprisingly key here, his kit work as conversant with jazz chops as with thrash fury. Though this kind of elemental blend could easily slip into overblown theatrics, Graves and his crew keep tight control over the arrangements, making any slide from complex riffage to simmering atmosphere to heads-down jamming feel natural and authentic.
Fans of fusioneers as diverse as Return to Forever, Scott Henderson & Tribal Tech and Dan Weiss' Starebaby will definitely find common cause here, but to say the record sounds like any of those folks is inaccurate. Besides, jazzers who want to avoid excess in their music will still find much to appreciate about Seven.