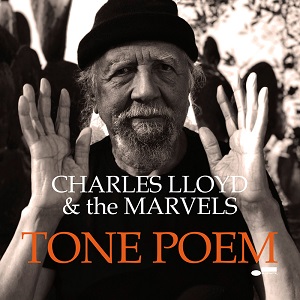 12 March 2021
A tone poem is an instrumental composition intended to convey a certain story, or mood, and it's usually used in orchestral music. Tone Poem – the latest album from jazz master Charles Lloyd and his sterling band the Marvels (guitarist Bill Frisell, bassist Reuben Rogers, drummer Eric Harland, steel guitarist Greg Leisz) – follows that logic not in the form of narratives, but as a pathway to truth. Lloyd himself is a deep appellant, constantly using the sounds his tenor sax makes as a way of probing his inner eye. But he's not one to impose his own view on others, instead opening the door and letting his fellow seekers discover their own dividends.
With a light guiding hand for the musicians and his own improvisational skills at their peak, Lloyd varies the mood of each song according to its thematic landscape. The title track, a Lloyd composition, moves at a jaunty clip finding joy in the search and hoping we do the same. The ebb and flow of his "Dismal Swamp" digs up some melancholy moods, as no search is easy, no matter what the end result. The opening pair of Ornette Coleman covers moves from the serene ("Peace") to the stimulating ("Ramblin'"), while Bola de Nieve's "Ay Amor" wallows in sensuality in the broadest sense of the term. A take on "Monk's Mood" pursues the spiritual path of tradition, with Frisell providing some of his hard boppin'est soloing on record. A cover of Gabor Szabo's "Lady Sabor" encompasses it all, with Leisz and Frisell weaving their steel strings around each other and Lloyd providing implied guidance on flute. The set closes with Lloyd's "Prayer," a relaxation of the spiritual and musical muscles that still engages in enough spontaneous compositional interplay to keep the inner fires burning.
Lloyd's penchant for weaving spirituality into his music is no secret, and if his message is light on deities, that's just so he can encourage listeners to find their own truth inside the sonic eye he opens. Even if Tone Poem doesn't send anyone back to church, whatever that may be, it still conveys a sacred quest that can't help but command fascination.