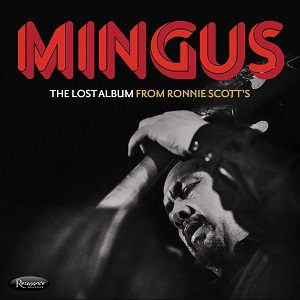 6 June 2022
Anyone even slightly familiar with jazz knows that Charles Mingus was a genius. Forty-three years after his death, the bassist/composer/bandleader's music – an innovative and unique blend of swing, blues and avant-garde flavorings – still occupies its own distinctive and influential space. So the discovery of unreleased music is always a delight. Recorded in August 1972, the two concerts documented on The Lost Album From Ronnie Scott's were intended for release on Columbia, but the label dropped every jazz artist not named Miles Davis before that could happen. Fortunately, the shows have been unearthed and finally released on jazz fanatic/producer Zev Feldman's venerable Resonance label.
While Mingus's mastery of his instrument (check out the excellent solos and witty instrumental asides scattered throughout) and clever, melodic compositions fill the bytes here, the other part of his legacy – his work as a bandleader – shines through as well. While saxophonists Charles McPherson and Bobby Jones were Mingus veterans, the rest of the band is new. Drummer Roy Brooks adds his swinging, esplosive style and, oddly, skill on the musical saw to the party, while pianist John Foster and 19-year-old trumpeter Jon Faddis bring youthful energy and technique to the performances. The latter pair's lack of experience doesn't hinder anything – Mingus had always been able to perfectly balance the strength of his vision with the desire of his players to explore, and can shape the performances of his musicians, regardless of experience, without actually telling them what to play. Given the epic length given most of the songs here – "Noddin' Ya Head Blues" and "The Man Who Never Sleeps" last nearly twenty minutes apiece, while "Mind-Readers' Convention in Milano (AKA Number 29)," "Fables in Faubus" and "Orange Was the Color of Her Dress, Then Silk Blues" each reach or surpass the half-hour mark – the ability of the players to hit their marks, inject their own personalities and still serve Mingus' music is at the very least remarkable, and often absolutely magnificent.
The Lost Album From Ronnie Scott's likely isn't the record to hand to a Mingus newcomer – it's probably better served by veteran listeners familiar with his singular musical ideals. But those folks will want this in their CD players or on their turntables ASAP, and the recently converted will quickly find it indispensable as well.