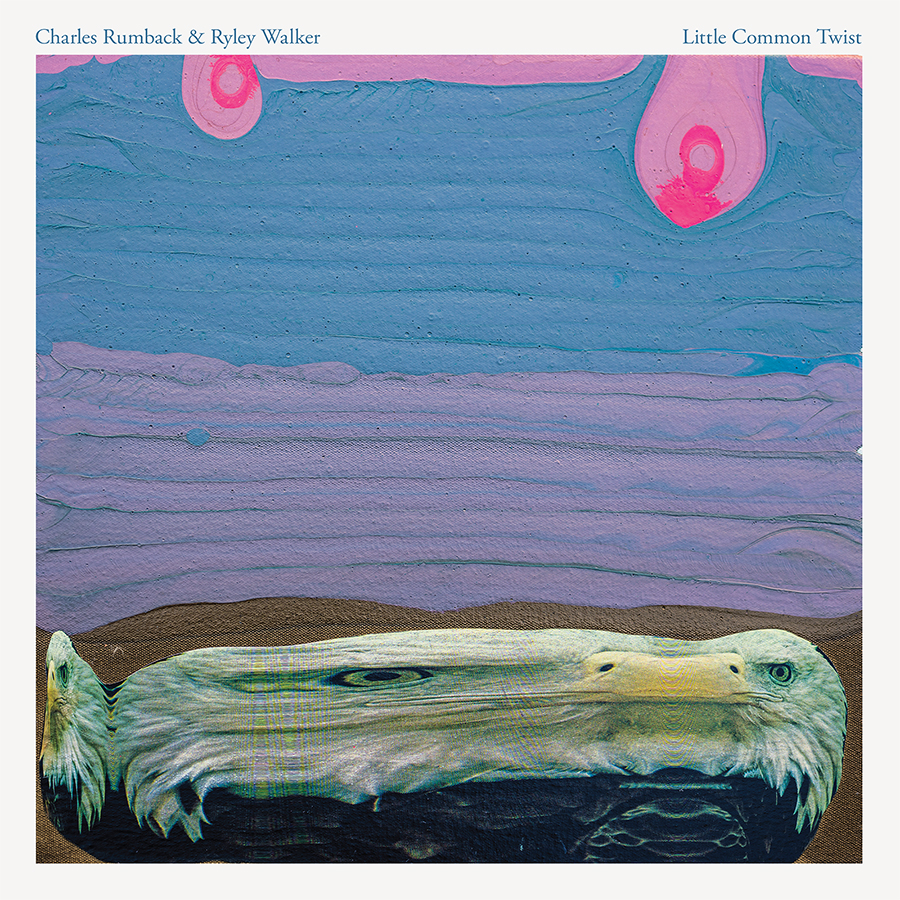 12 November 2019
If an artist appeals to the standards of experimentalism and plays a guitar in the vicinity of Chicago, does it just come out sounding like "And You, These Sang"? Although Ryley Walker, fresh guitar stalwart of myriad styles, is twenty odd years junior to the Windy City's nineties heyday players, there is a through line with seemingly zero bias against generation. The aforementioned number from Walker and percussionist Charles Rumback's second collaborative album Little Common Twist broods with as much murderous contemplation and dark jazz as, say, the two decades aged Tortoise cut "Along the Banks of Rivers". A particular and seemingly inimitable timbre, surely unintentionally replicated here. It begs the question: what supermusician toxin is in the water there?
Twist is one half ambient/drone record and another half open tuning acoustic fare. The latter marks a welcome return to Ryley's unplugged fingerpicking roots after a 2018 hefty with electric releases. "Half Joking" recalls Gastr del Sol's deconstruction of the John Fahey principle while the roving, curious harmonics of "Self Blind Sun" breathe a life of getting one's ducks in a row; a distant relative of the infamous gestalt of Joan of Arc's The Gap. In "Ill-Fitting / No Sickness", Rumback settles into a raga beat to compliment Walker's open chord fiddling. Their meditative duality hedges on 75 Dollar Bill territory, if only bite sized (I suppose there is an influence outside of Illinois's province that comes to mind here after all).
The record feels equally lived in when abandoning its structure. Floating on the guttural bow pulls of guest Nick Macri's upright bass, "Idiot Parade" taps into a trancelike jam, the type that could have easily been culled from an hour's worth of tape. The snare wire comes off for this one and Rumback transports a rim clicked steady shuffle otherwise fitting for cocktail hour into the soundtrack of an ayahuasca weekend. "Menebhi" ups the ante, further psyching out Rumback's kit with an envelope filter and affixing a simple CR-78 4/4 sequence to the whole thing; a tauntingly unreachable totem hinting at real life outside of Tu Misterioso Viaje. "If You're Around and Down" again capitalizes on that warm mallet sound sans snare wire and draws a soothing bath for the senses as Walker's string pulsations echo in from afar, layering balmily atop one another.
All of Walker's melodic personalities make an appearance here and Rumback adapts to each one, whether building a straightforward crescendo on "Worn and Held" or abetting brushwork to whatever haunting crime "These Sang" committed. They amazingly never outperform each other, working in tandem restraint to create something rare in a self-described collaborative effort. Whereas most of its ilk result in uninhibited vibe sessions, Little Common Twist offers informal exploration with intent.
You may purchase the record here.