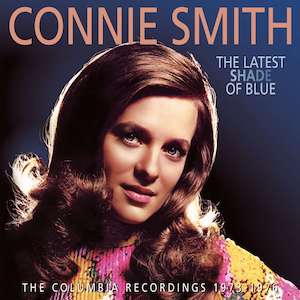 20 January 2022
Dolly Parton has been quoted as saying, "There's really only three real female singers: Streisand, Ronstadt and Connie Smith. The rest of us are only pretending." An extravagant claim, to be sure, but Smith's tenure at RCA Records, which began in 1964, justifies such praise. On hits such as "Once a Day" and "Ain't Had No Lovin'," this charismatic artist split the difference between old-school honky-tonk and the ascendant, slicker "countrypolitan" sound with a big, expressive voice that could be thrilling and heartbreaking at once.
By the time Smith arrived at Columbia Records in 1973, she was a long-established star with a legacy to preserve. Her voice soared less but in some ways she was a better, smarter singer, a gifted master of phrasing who could have excelled in genres besides country. Collecting 96 tracks on four discs, The Latest Shade of Blue: The Columbia Recordings 1973-1976 both reflects the times and captures the timeless power of Smith's voice as she transcends slick arrangements on secular material and takes a deep, heartfelt dive into gospel, including an entire album of Hank Williams' religious songs. Among the highlights: misery-soaked laments like "I Still Feel the Same About You" and "I Got a Lot of Hurtin' Done Today," a couple of charming Everly Brothers covers – "So Sad (To Watch Good Love Go Bad)" and "('Til) I Kissed You" – and the jaunty "Let's All Go Down to the River," brimful of revival-meeting exuberance. If The Latest Shade of Blue isn't the definitive Connie Smith collection, fans will still find plenty to savor.
And the story's not over yet: Last year she released The Cry of the Heart, Smith's first album in a decade and a flat-out classic that compares favorably with her best work.