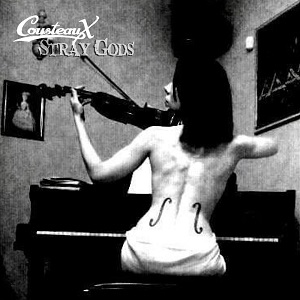 18 August 2021
When CousteauX (formerly Cousteau and Moreau) returned from its self-imposed exile with its self-titled comeback LP in 2017, that was cause for excitement. If anything, however, follow-up Stray Gods is even more so. Plenty of artists return from extended hiatuses and sputter out with one new album, but not these unique noir rock balladeers. If anything, Stray Gods is stronger than the comeback LP, with a more expansive reach and better songs. As usual, singer Liam McKahey and keyboardist/songwriter Davey Ray Moor pull from what seems like a grab bag of musical influences, though all of them – glam rock balladry, cinematic pop a la Jimmy Webb and Burt Bacharach, enigmatic brooding, dark-end-of-the-street soul – connect with the desire to explore melancholia in order to find a way out of the other side.
Opener "Cheap Perfume" digs deep into the band's soul bag with a pensive trip down memory lane. But that somber salvo contrasts mightily with the menacing "Love the Sinner," a growling come-on that takes full advantage of McKahey's deepening voice. He rumbles his way through the chorus of "Praying For Rain" as well, egged on by the shuffle beat, and really grabs hold of the grungy "Hush Money," the loudest and most rocking track here. The deceptively breezy "Electrical Storms in Berlin" takes us down to the local cabaret, while "When the Bloom Has Left the Rose" ventures into the realm of art song, its shimmering melody hiding desultory turns of phrase like "Where does it go/All of the sweetness of the future/It's just a yester glow/That grinds out on and on." "Yesterday Eyes," "In the Meantime" and "This Thing Won't Fly" (repurposed from Moor's 2004 solo album Telepathy) indulge in the group's stock-in-trade: grand, gloomy pop.
Despite a bucketful of strong originals, the band includes a pair of covers. The duo recasts Miley Cyrus's "Karen Don't Be Sad," a track from her Flaming Lips collaboration Dead Petz, as a Burt Bacharachesque pop song, complete with a flugelhorn solo from Moor. It's a surprising choice, but one CousteauX makes its own. The cover of Leonard Cohen's "So Long, Marianne" is more expected from this troop, paying homage to a key influence. They're welcome additions, but strangely not really needed, as Moor's songwriting mojo strikes like lightning repeatedly here. Nearly twenty years after it began, CousteauX is still as irresistibly potent as ever on Stray Gods.