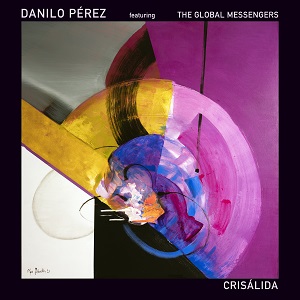 18 March 2022
Though most famous for his decades as the pianist for the recently-retired Wayne Shorter, Danilo Perez has his own thirty-year career as a leader since being recruited by Dizzy Gillespie for the United Nations Orchestra. Now a mentor himself, the Panamanian native creates his own international jazz ensemble the Global Messengers, pulling players from the Berklee Global Jazz Institute, which he founded, for the cosmopolitan statement Crisálida.
With musicians hailing from Palestine, Greece, Iraq, Jordan, Cuba, Chilé and the United States, cultural fusion is both inevitable and welcome. Perez directed his charges to connect with jazz's roots in the blues, but also to celebrate their own cultural musical traditions on the two suites recorded here. Thus Iraqi singing meets tango rhythms, Cuban grooves underpin Palestinian fills, and guitars, violins, percussion and spoken word interludes color the proceedings like expert painters in a single mural. "La Muralla (Glass Walls) Suite" subtly emphasizes the Latin parts of the equation, but not at the expense of any of the other elements, showing remarkable breadth across its four sections. "Frontera (Borders) Suite" gives a bit more juice to the Middle Eastern facets of this particular diamond, though it also lets Perez himself off the leash more often for some magnificent keyboard solos.
What's remarkable about the enterprise is how Perez's vision becomes a collective one. Though he's assembled a team with members from all over the world, the pianist unites them all with both a deep love of jazz and the belief that the world is a more compact and harmonious place than some humans would prefer to accept. All the players express themselves according to their own traditions, while still keeping to the jazz framework – cooperation instead of compromise. That's always been a hallmark of Perez's body of work, of course, which makes the beautifully realized Crisálida sound like the artistic goal to which his entire career has led.