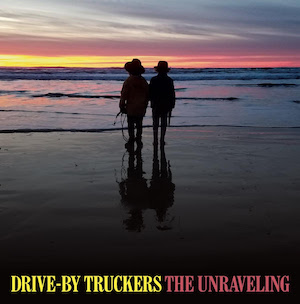 2 March 2020
For more than two decades, the Alabama-spawned band Drive-By Truckers has told stories of losers, outsiders and other misfits with insightful empathy and wit. On The Unraveveling, the group's first album since 2016, Patterson Hood and company continue to view the world through the eyes of the underclass, but there's a new profound bleakness underpinning the songs, befitting the current state of the nation.
While crunchy rock'n'roll remains the Truckers' default mode, their latest songs often have a haunted, deconstructed vibe, as if reality has made it too difficult to rock out. Despite a stomping groove, no catharsis awaits in the itchy "Armageddon's Back in Town," which observes, "There'll be no healing from the art of double dealing"; the glum "Heroin Again" finds Hood lamenting deceased friends, observing, "I thought you knew better than that."
Suggesting a modern-day Job with an electric guitar, Hood's rueful, weary voice can make him sound like the saddest man in the world, which gives The Unraveling a chilling resonance. From the eerie "Babies in Cages" to the toe-tapping "Thoughts and Prayers," in which he tartly exclaims, "Stick it up your ass with your useless thoughts and prayers," to the hypnotic, eight-minute-plus closing track, "Awaiting Resurrection," where he sighs, "There's an evil in the world," Hood sounds like he's on the verge of giving in to despair, though he takes pains to inject a note of vague optimism.
The folkier Mike Cooley only contributes two songs, but makes every minute count. The jittery "Grievance Merchants" angrily calls out those who encourage white male anger for political gain, and "Slow Ride Argument" offers an antidote to domestic violence.
Add The Unraveling to the long list of excellent Drive-By Truckers albums. If it's not exactly easy listening, their unsparing intelligence makes it impossible to ignore.