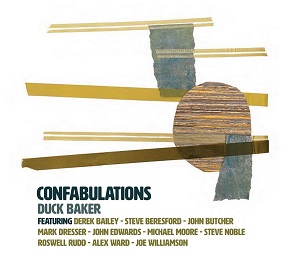 5 July 2021
In almost five decades of making music, acoustic fingerstyle guitarist Duck Baker has done just about all: folk, blues, ragtime, and jazz – all kinds of jazz, from bebop to the freest of the free. Confabulations collects duo and trio recordings made over the course of twenty-three years, and features players from the more adventurous side of the jazz spectrum for an album of uneasy listening.
Legendary trombonist Roswell Rudd joins Baker for "East River Delta Blues," which keeps a rollicking rhythm going despite the skronk, and "Signing Off," which spins off a heady improv blues from, of all things, "Taps." "Shenandoah" (not the old American folk song) and "Pope Slark" feature Baker squaring off with bassist Mark Dresser, who goes as far outside as his pal without descending into noise for noise's sake. The live "Duo For 225 Strings" puts the guitarist with pianist Steve Beresford; as might be expected from the title, Beresford plays the inside of his instrument as much as the outside, but the results aren't nearly as unmusical as you might think.
Meanwhile, Saxophonist John Butcher stops by for "The Missing Chandler," by far the longest cut on the record, though by no means the noisiest – indeed, over the course of its nearly twelve minutes, it has passages that are quite beautiful. The leader indulges in some exploratory jazz with Ward, bassist John Edwards and drummer Steve Noble on "Tourbillion Air," projecting a mood of relaxed curiosity. For pure chaos, Baker teams with the late Derek Bailey for the unusual situation of two freeform acoustic guitars via "Indie Pen Dance," likely the most challenging piece here.
By contrast, Baker joins bassist Joe Williamson and clarinetist Alex Ward for the swinging bebop of "Ode to Jo," which seems a balm after the dissonance of the rest of the tracks. But that song is an outlier on an album dedicated to avant-garde exploration. Confabulations is likely to confound more hearers than it enlightens, but that's okay – everyone needs to let their head spin once in a while.