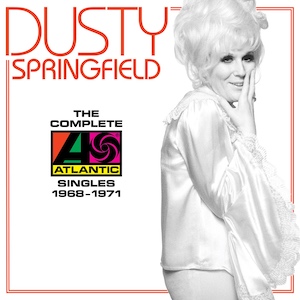 16 February 2021
The greatest UK female pop singer ever, Dusty Springfield was a student of American sounds. As a member of The Springfields ("Silver Threads and Golden Needles"), she performed Peter, Paul & Mary-style folk, while terrific early solo hits like "Stay Awhile" and "I Only Want to Be with You" showcased her gift for exuberant girl-group epics. Presenting a subsequent string of 45 releases in the original mono versions, The Complete Atlantic Singles 1968-1971 testifies to Springfield's stunning versatility.
Her tenure at the fabled r'n'b label Atlantic resulted in the classic album Dusty in Memphis, a masterpiece of down-home Southern soul, and its steamy hit single, "Son-of-a Preacher Man." The A-list production team of Jerry Wexler, Tom Dowd and Arif Mardin took full advantage of Springfield's magnificent voice, which could be sultry and intimate or soaring and expansive, sometimes in the same song. Her Memphis sessions also included the haunting "The Windmills of Your Mind" and the funky "Willie & Laura Mae Jones."
Turning next to gifted Philadelphia producers Kenny Gamble and Leon Huff, she took a more polished route for such singles as the joyous "A Brand New Me" and the Motown-inspired grandeur of "Lost," though Springfield sometimes seemed hemmed-in by their elaborate settings. Her final Atlantic efforts teamed her with Brill Building greats Ellie Greenwich and Jeff Barry, which is great in theory, but resulted in overproduced singles like "What Good Is I Love You."
Regardless, The Complete Atlantic Singles 1968-1971 captures this unique chanteuse at the peak of her powers, able to make magic in virtually any setting.