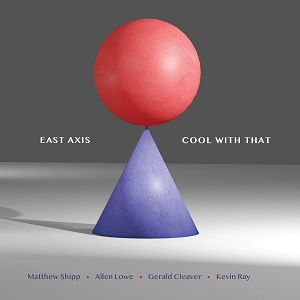 2 August 2021
One look at the personnel on the debut album by East Axis makes it hard to resist: pianist Matthew Shipp, drummer Gerald Cleaver, saxophonist Allen Lowe and bassist Kevin Ray make up a free improvisation dream team. For some folks, the term "free improvisation" brings up visions of absolute cacophony, but that's not what you'll find here.
That doesn't mean these tracks are easy listening, mind. Opener "A Side" may start with lush sax lines from Lowe over Shipp's introspective chording, but once the rhythm section kicks in, the two melodists weave two distinct harmony lines into a dissonant but strangely pleasant whole. The ballad "Social Distance" sets levels to "explore," as postbop sax, constantly reharmonizing piano, soloing bass, rumbling drums find their own way through the thin-air melody – all without turning the proceedings into random splatter. At nearly a half an hour, "One" finds Lowe and Shipp displaying tasteful virtuosity at every turn while Ray and Cleaver swingingly holding the line in place. Just to prove they're capable of traditionalism, the band comes up "I'm Cool With That," a nifty, blues-sopped strut that sounds pre-composed (but isn't).
The musicians do rip on "Oh Hell I Forgot About That," with Shipp laying down waves of speed-demon piano over Ray and Cleaver's amphetamine swing, as Lowe cuts through the density like he's wielding a meat cleaver. But even that cut never fails to be absolutely musical. That's a testament to the damn-near telepathic interplay between these cats – no matter how spontaneous the music, there's always a linear drive behind it.
Recorded in a single day, East Axis is a master class in spontaneous composition from a group that knows exactly how to make every nook and cranny of the music glow. Easily in the running for jazz album of the year.