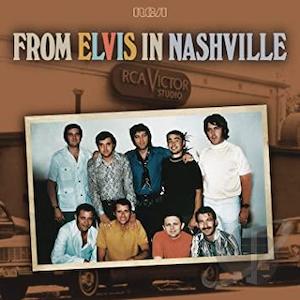 3 December 2020
Elvis Presley was no longer on the comeback trail when he arrived at RCA's Studio B in Nashville for a recording marathon in June 1970. He was back: The King's '68 TV special and a subsequent series of hit singles that included the blazing chart-topper "Suspicious Minds" confirmed his return to creative vitality. Following his 1969 soul-tinged Memphis sessions, Presley touched down in Music City, where the results had, understandably, more of a country tinge. The engrossing From Elvis in Nashville documents his efforts, featuring two discs of master takes, remixed and stripped of the later string and vocal overdubs that cluttered the original releases, plus two discs of outtakes.
Elvis was in terrific voice that summer, no longer phoning it in the way he'd done on those tepid movie soundtracks. Perhaps reflecting his sold-out Vegas shows, where epic gestures thrilled the crowds, grand melodramas are a big part of the menu on From Elvis in Nashville. Though Presley occasionally slips into theatrical excess ("You Don't Have to Say You Love Me"), his performances are on the money for the most part, both heartfelt and self-aware, bringing these big ballads to life with respect and finesse. See "Rags to Riches" or "Make the World Go Away" or "Tomorrow Never Comes" for compelling, old-fashioned showmanship at its best.
Elsewhere, the bluesier, more rockin' Elvis resurfaces, to exciting effect. Backed by a hot, albeit tasteful, team featuring guitarists James Burton and Chip Young, as well as harmonica ace Charlie McCoy, Presley swaggers and struts with easy verve on "I Was Born About Ten Thousand Years Ago" and "Patch It Up."
While From Elvis in Nashville lacks a landmark on the scale of '69's "Suspicious Minds" or "Burning Love," which would follow in 1972, it's required listening for Presleyphiles, a fascinating document of a time when the vibes were righteous and the future still seemed bright.