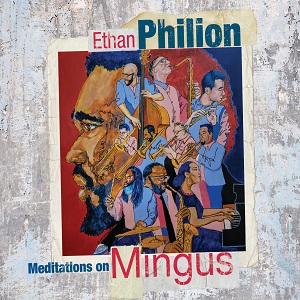 23 August 2022
Though long considered to be one of the greatest post-Ellington composers in jazz, the late Charles Mingus sometimes finds his catalog mined less often than his peers and disciples – outside of the perennial favorite "Goodbye Porkpie Hat," it seems like not a lot of Mingus tunes get covered on record. Chicago bassist and bandleader Ethan Philion intends to change that, apparently, as demonstrated by Meditations on Mingus. Inspired by the way the social commentary in Mingus' music reflects ongoing societal aches and pains, Philion directs a mini-big band, frontloaded with saxophones, trumpets and trombones, on a set of eight Mingus classics and deep cuts.
Regarding the former, Philion and company essay a rousing take on the composer's anti-racism anthem "Haitian Fight Song," swings through the epic, brawny "Pithecanthropus Erectus," and lay down an absolutely gorgeous run through Mingus' introspective ballad "Self Portrait in 3 Colors," highlighted by Russ Johnson's impassioned trumpet solo. Though it's an easy target, Philion and band also reconstitute "Better Git It in Your Soul," one of Mingus' most famous and joyful compositions, giving a reading full of exuberant energy, crack musicianship, a rollicking barrelhouse coda, and the same sense of optimism as the original.
Less obviously, Philion puts forth a massive version of the big band extravaganza "Meditation for a Pair of Wirecutters," a song written in protest of inhumane and unfair prison conditions in the early sixties – a theme sadly still relevant in the age of ICE detention centers. "Remember Rockefeller at Attica" follows a similar thought stream, while the bopping take on "Prayer for Passive Resistance" speaks for itself. "Once Upon a Time there was a Holding Corporation Called Old America" (sometimes titled "The Shoes of the Fisherman's Wife Are Some Jive-Ass Slippers") speaks to corporate influence on American government and the disparity between rich and poor with a magnificent arrangement that emphasizes the brass section, as well as its writer's beguiling way with melody.
If all of that sounds like heavy going, it most assuredly isn't. Mingus was a smart, inquisitive and thoughtful guy who never shied away from giving his opinions on what he thought were injustices. But he was also a brilliant musicmaker, ultimately more interested in letting his melodic, memorable tunes do the talking than in publishing political screeds. Philion leans hard into that aspect of Mingus' music, making Meditations on Mingus into a great music album first and foremost. If that draws listeners into thinking about the issues raised, so much the better.