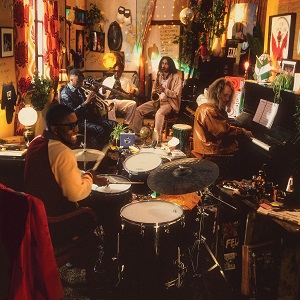 4 November 2022
What's the difference between a jazz band and a jam band? Both arenas feature tunes created mostly to allow the musicians to improvise – yet one type enjoys near-universal respect and the other tends to attract contempt from anyone not already converted. It's a hard question to answer. One could cite musicianship – the most mediocre jazz musician usually possesses superior technical abilities that facilitate improvisation in a way most rock musicians never attain. One could also cite the presentation, as most rockers have to perform as much as play, rather than just get on with things. And lord knows the lyrics in jam band songs seem to exist mostly just to have something to hang the rest of the song on.
But none of that is quite accurate. (Well, maybe the lyrics bit.) Plenty of rock jam bands include members who've been trained to play jazz, and jazz musicians aren't above showboating for the audience's attention. Plus there are those jazz artists who've deliberately courted the jam band audience and earned new and loyal followings – John Scofield and Medeski Martin & Wood come immediately to mind. The division is real but nebulous. So where does Ezra Collective, a band that's never been shy to play for whatever audience will have them, fit in?
The London five-piece made a splash at SXSW a couple of years before the pandemic with gigs on both jazz and pop showcases, and has won over eager crowds at home and abroad with its high energy concerts. The band's jazz bonafides are genuine, given not only their training as young folks as part of the famed Tomorrow's Warriors program, but also the members' hired gun work with jazzers closer to what we might call tradition. But this is a gang of young men who grew up on London's multicultural streets, absorbing Afrobeat, Caribbean music, hip-hop, reggae, electronica, club music and broken beat, all of which are as much of a part of their aesthetic as bebop, hard bop, postbop or swing. It's fusion in the best sense of the word, as keyboardist Joe Armon-Jones, saxophonist James Mollison,, trumpeter Ife Ogunjobi, bassist TJ Koleoso, and drummer/leader Femi Koleoso use all of these elements in harmony with each other in the most organic way.
Which brings us to Where I'm Meant to Be, the band's third full-length album and first to be released on an American label. It's all on fire here: the danceable rhythms, the catchy riffs, the expert improvisation, the soulful feel. The setup seems simple, based on the hard bop model: intro, head, solo section, back to the head. But, as with the best hard bop, there's a ton of range and possibility in that format. Take "Welcome to My World" – it boasts a strong melody and an irresistibly danceable rhythm, but also a series of brilliantly executed solos, particularly from Ogunjobi. Check out the spine-wiggling funk of "Smile," which establishes its groove and lets Armon-Jones off the leash like Thelonious Monk jamming with the Brand New Heavies. Grok the dubwise "Ego Killah," which soaks its skanking beat in psychedelic atmosphere while ceding the stage to Mollison's stirring lead break.
The Collective is arguably at its best when it blends its various influences so seamlessly that pinning an easy label on it proves impossible. Cf. "Belonging," which combines dub, funk, jazz, hip hop and a certain mysterious something into a beautiful ball of lush and limber musical happiness, or "Never the Same Again," which freely shifts from languid R&B to high voltage Afro-Cuban bop and back again. Then there's the energy-spewing Afro-Latin jazz funk of "Victory Dance," a spectacular showcase for musical collective will that would supercharge any dance floor while still allowing the jazz nerds to marvel at the skill involved. The band invites the occasional vocalist to contribute as well, with singers Emeli Sandé and "Nao" adding charm to "Siesta" and "Love in Outer Space" and rappers Kojey Radical and Sampa the Great appearing on "No Confusion" and "Life Goes On," respectively.
Throughout the Koleoso brothers provide masterful support to their more melodically-inclined bandmates, providing the kind of foundation that lets them shine. In return the keyboardist and horn players devote themselves to the ever-present groove. Having set the stage for the proverbial masterpiece with previous LPs, Ezra Collective makes Where I'm Meant to Be the kind of third record one hopes for in an artist's catalog: the one where an artist's talents come together at their most potent, invigorating, and compelling.