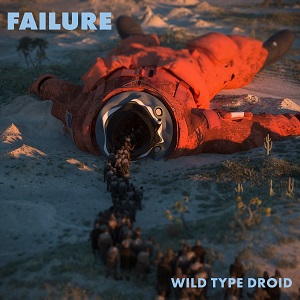 3 December 2021
For its third album since its 2013 reunion (and sixth overall), L.A. trio Failure modifies its approach while retaining its strengths. Singers/songwriters/multi-instrumentalists Ken Andrews and Greg Edwards and drummer Kelli Scott long ago proved their mastery at creating sensually thick bites of spacy alt.rock and psychedelic grunge; with Wild Type Droid they now show that they're not hidebound by those methods.
Rhythm seems more important than ever here, with heavy bass tones taking center stage in the arrangements, guitars tending toward a sharp sheen instead of a fuzzy wash, and the band expanding beyond its usual graceful plod. Opening track "Water With Hands" strips back the distortion that usually paints the corners, emphasizing the groove and melody for a cut that sounds fresh while still keeping the Failure vibe going. "Submarines" and "Long Division" find the trio exploring different facets of its tempo and textural prowess, opening up its sound with more space and expression. "Bring Back the Sound" incorporates acoustic guitars, minor keys, odd time signatures and lush harmonies for a track that borders on progressive rock without ever making blatant moves in that direction.
That's not to say the band completely abandons its beloved aesthetic – spin "Bad Translation" for proof that it's as good at being "classic" Failure as it's ever been. But the band definitely tweaks their methodology to shift focus squarely to the songs in a way more specific than ever before. That's appropriate enough, as the group moves away from epic psych/space rock to more introspective and earthbound concerns – cf. "Headstand" and the album-closing "Half Moon."
Failure's internal culture shift translates into a noticeable external enthusiasm, giving the songs stimulating new colors and an invigorated musical outlook – all without losing the qualities that make the band stand out in the first place. The band's clear vision makes Wild Type Droid one of its very best albums.