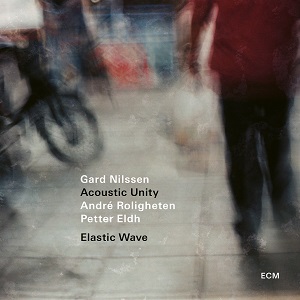 14 July 2022
Norwegian drummer Gard Nilssen, sideperson to Macej Obara and Mathias Eick and leader of Acoustic Unity and the Supersonic Orchestra, follows in the footsteps of a legacy – specifically that of late Norse drum legend Jon Christensen (and his peer Paul Motian). As such, Nilssen isn't afraid to swirl his kit around the beat, trusting the listener to find and hold the pulse. But he's no free drummer, either, understanding perfectly not only how to swing, but when. Alongside bassist Petter Eldh and saxophonist André Roligtheten, Nilssen utilizes considerable skill but also substantial sensitivity on the fourth Acoustic Unity album Elastic Wave.
Thus a tune like the vivid "Influx Delight," co-composed by Nilssen and Rolighteten, sounds like it might veer off course any minute, but it never does – in the classic Ornette Coleman style, the song sounds much more unstructured than it actually is. The same with Rolighteten's "The Other Village," which adds some Rahsaan Roland Kirk-style double sax playing to the roil. On the flip side, though, comes Eldh's ecstatic and melodic "Altaret," and Nilssen's joyous and jaunty "Boogie," both proof that the Unity can play it (relatively) straight when required.
Nilssen's album-ending "The Room Next to Her" uses Rolighteten's bass saxophone as the melodic center, allowing the rhythm section to wander. Nilssen clearly has an equal love for tune and turmoil, which makes Elastic Wave live up to its playful, expansive title.