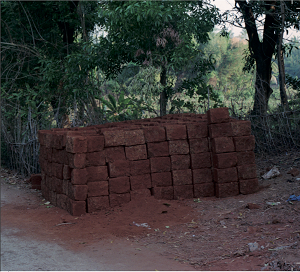 9 November 2020
With its fifth album Imaginary Mountains, Paris' Ghost Rhythms continues on its idiosyncratic path as one of the most unique and gifted instrumental bands in the world. Composed, as is most of their music, by keyboardist Camille Petit and drummer Xavier Gélard and recorded at home during France's Covid-19 lockdown, Imaginary Mountains takes its title literally, providing themes for a variety of mountainous fantasies as found on old maps. As always, the band takes its cavalcade of influences – jazz, progressive rock, folk, classical music, chanson – and applies them to a cornucopia of melodies, moods and textures.
"Path to Oyapock" begins the record on a contemplative note, as if the acoustic guitars and accordion were parting the dawn mists and revealing the titular path up the hill. Near the end, electric guitar pokes through, leading us to the next part of the journey: the epic "Tumuc Humac." Non-standard time signatures and the group's patented blend of instruments create a tour-de-force of countermelodies, textures and instrumental firepower, all of which are applied with near-painterly precision. Inspired by non-existent mountains that appeared on Guyanese maps in the nineteenth century, "Tumuc Humac" is not only the standard-setter for this record, but also a key track for anyone wanting to sample and understand where Ghost Rhythms is coming from.
From there the group wanders a variety of routes through hill and dale, from the atmospheric vistas of "Oayana Circles" and "Vie de Raymond Maufrais" to the tense and rocky pathways of "Coudreau's Dream" and "Sierra de Tamuraque." The record reaches its other peak with "Horizontal Ascension," a near-symphonic blend of progressive rock dynamics, jazz improvisation and classical melodic figures powered by synthesizers, electric guitar, violin and ethereal voices. It's a tune of many moods, but it all unfolds in a logical and compelling way. With the band's skill and creative fire at their peak, Imaginary Mountains lives up to its title, truly becoming an odyssey of struggle, determination and triumph – in other words, successfully climbing a mountain.