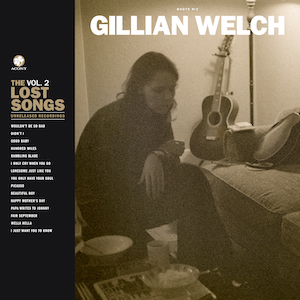 25 September 2020
From livestreamed concerts to home recordings to archival trawlings, the pandemic has prompted a lot of housebound artists to rethink their strategies. Ordinarily the opposite of prolific, Americana luminary Gillian Welch and her longtime musical sidekick, David Rawlings, have been atypically visible lately, cutting a new album of cover songs (All the Good Times) and scouring the vaults to create Boots No. 2, a 48-track, three-part series of home demos and reel-to-reel recordings from days gone by.
To be followed by a third installment this fall, the newly released Boots No. 2: The Lost Songs, Vol. 2 feels like the right kind of down-to-earth listening for these bizzarro times – just two voices, two guitars (and occasional banjo) and 15 songs delivered without undue theatrics. While this engaging set features the duo's usual blend of prehistoric, Appalachian-style country and unadorned folk, with hints of down-home blues, it feels less premeditated and more immediate than their "official" studio works. Welch's calm, plainspoken singing brings these artful tales of joy and sorrow to vivid life, from the languid wit of "Picasso," to the stoic anguish of "I Only Cry When You Go," to the toe-tapping desire of "Wella Hella."
Best of all, The Lost Songs, Vol. 2 beautifully captures the simple, enduring joy of making music. At a time when so many of life's pleasures feel diminished, that's performing an invaluable service.